Best 18 Kitchen Slicers And Choppers - Reduce Prep Time In The Kitchen
Sep 09, 2022 by harvestshoppers
What's a food slicer, and do I need one?
Cut down on the laborious and extensive amount of time that it takes to cut up your vegetables or fruit. Slicing by hand can take up a great amount of time and can often lead to inconsistent slices. Fortunately, our cutter goods can cut vegetables and fruits as easily as any meat.
1. 3 In 1 Stainless Steel Vegetable Cutter Slicer Basin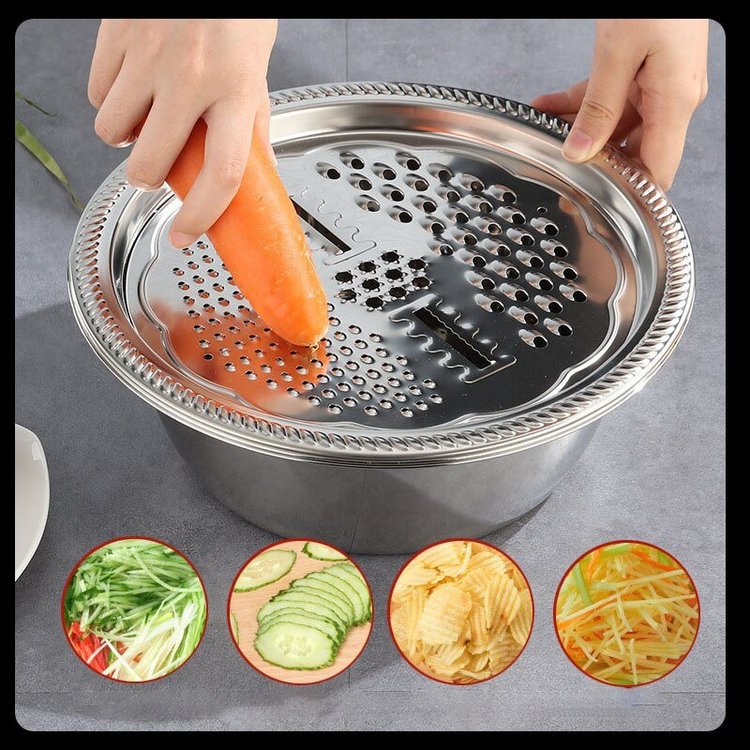 Scientific research shows that plastic-free products are more beneficial to your health. Compeletly No plastic at all, every purchase you make will help the environment. Professional quality, sturdy, stainless steel, no rust, stylish design. A refined mesh that will ensure only the finest grains of flour get through while ensuring no lumps. The Premium Quality Food Strainer Sieve is crafted from food-grade material, Please rest assured use. Dishwasher safe, very easy to hand clean. The kitchenware set of 3 will be an everyday tool that will help you serve up delightful treats. 3 different size for different purposes.
Shop 3 In 1 Stainless Steel Vegetable Cutter Slicer Basin
2. Corn Slicer Peeler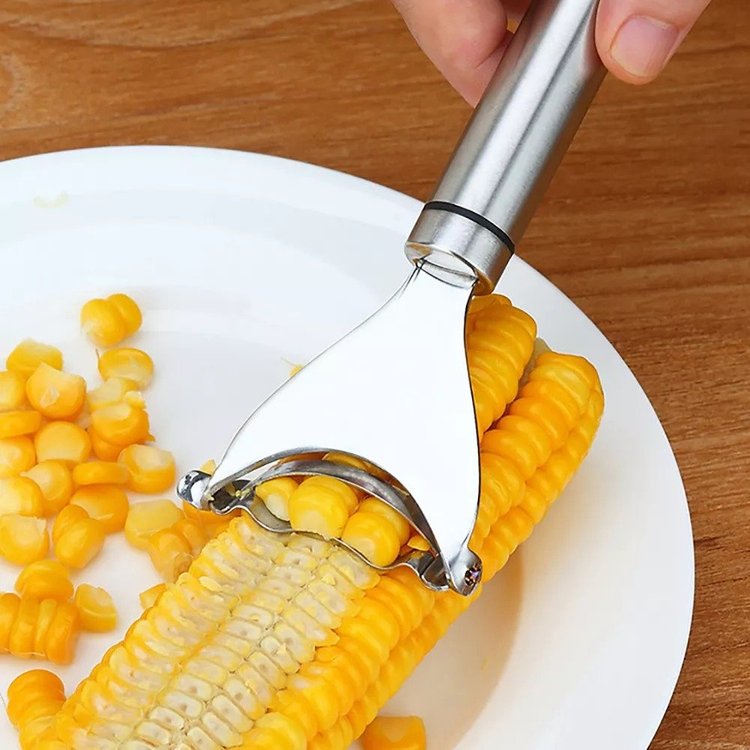 The Best Corn Peeler For The Chef, The Gourmet And The Corn Lover - Saves You Time And Effort. Has a ergonomic high-tech polished stainless steel handle that makes for a nice grip.The serrated blade is super sharp but not dangerous, and there is a hole in handle for convenient hanging storage. Crafted of solid 304 stainless steel which is heavy duty and last a long life without any corrosion, it won't rust, bend, break or weaken at the joints. Cuts the kernels quickly and cleanly, save your time in the kitchen. Easy to clean, suitable for traditional wash and dishwasher. If you have ever gone through the process of cutting kernels off the cons of dozens ears of corn for green corn tamales, I think you will really like this tool.
3. 4 In 1 Handheld Electric Vegetable Cutter Set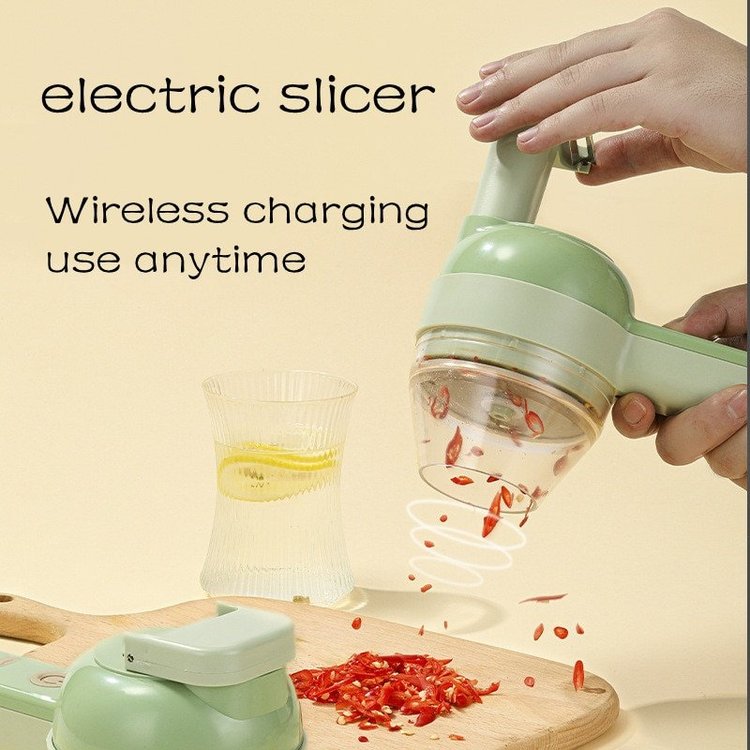 Despite the fact that there are many vegetable cutters, few are really capable of handling ingredients, but fresh ingredients are necessary for any dish.The Handheld Electric Vegetable Slicer is easy to use and clean, making cutting vegetables more convenient. With it, you can have an electric vegetable cutter and an electric meat mincer and an electric cleaning brush at the same time, a multi-functional set. It is more convenient to cut and side dishes, fresh ingredients, easy to clean, use it once and fall in love with it!
Shop 4 In 1 Handheld Electric Vegetable Cutter Set
4. Multi Function Vegetable Cutter Slicer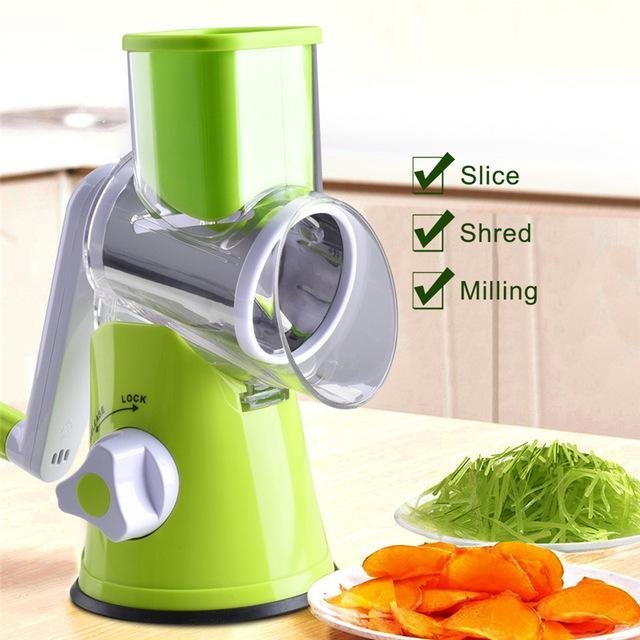 Make the most out of your vegetables with the incredible multi-function Vegetable Slicer/Cutter. Whether you're looking to make a stir-fry or a vegetable medley, it'll only take you seconds to Julienne your vegetables. Simply place the vegetables you want cutting into the bin and rotate the handle -- It's as easy as that! If you're spending money on ready-cut vegetables from the supermarket, then you're wasting your money! Juliennes, Cuts, Slices your Vegetables with Ease. Food-Grade Stainless Steel Blades stay sharp over time - Even after a thousand vegetables!
Shop Multi Function Vegetable Cutter Slicer
5.Ultimate All-Purpose Meat Chef Slicer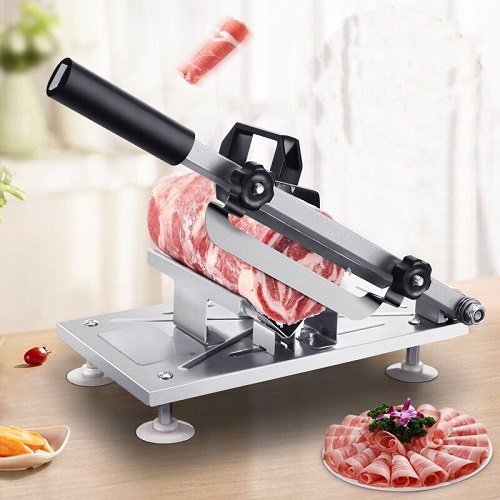 The One Piece of Equipment You Need to Make Perfect Meals! Slice the meat as thin as you want with this sharp-bladed Universal Slicer! The Ultimate Meat Chef Slicer helps to efficiently slice frozen and thawed meat, such as beef, lamb, chicken, ham, and fish for a variety of purposes including making hotpot, sukiyaki, pizza topping, sandwiches, or into jerky for treats. It is made of high-quality stainless steel that can be easy to clean and enable for a long time to use.
Shop Ultimate All-Purpose Meat Chef Slicer
6. Multi Slicer and Grater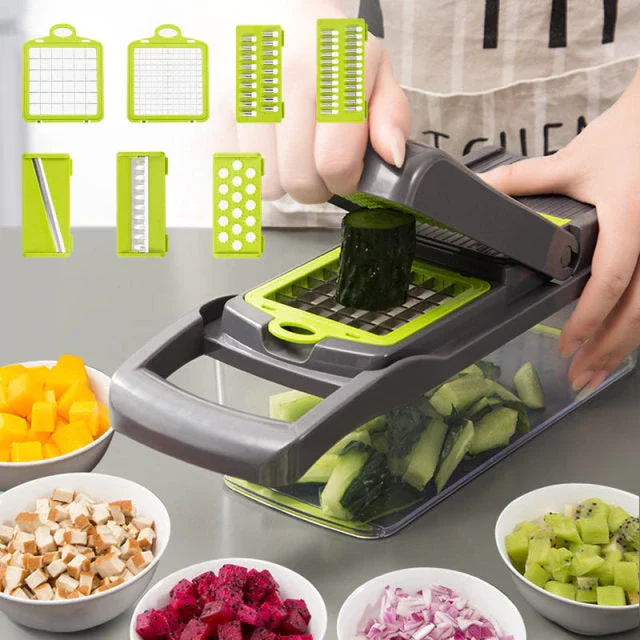 Your cooking assistant for easier (faster) meal prep. Simplify dinner time with our premium-quality vegetable slicer, designed to rest your hands and more efficiently slice and dice ingredients for salads, stir-fry, and sandwiches alike. Cut all kinds of vegetables, grate cheese, and slice fruits into beautiful, even sizes in seconds. Grate, chop, mash, and shape your ingredients with one versatile chopper tool. With seven different stainless steel blades, discover a variety of prep solutions for your fruits and vegetables. Whip up sandwiches, sauces, and salads in a flash! And you won't need any additional knives or tools; our chopper is your all-in-one solution.

7. Multi Purpose Vegetable Slicer & Chopper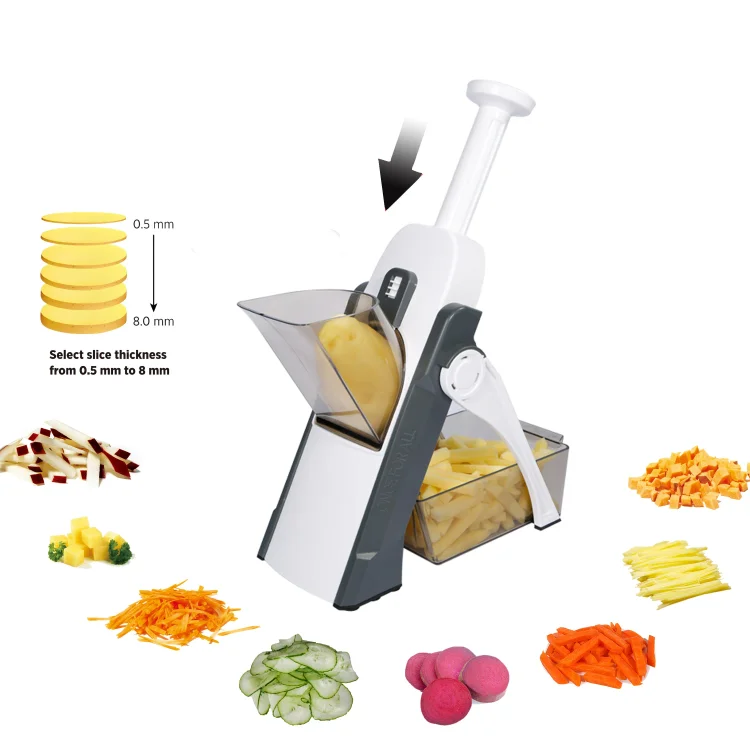 The Quickest & Easiest Kitchen Gadget For Pro Veggies Prep! Saving Time & Effort! Professional quality, sturdy and durable, and stylish design,very suitable for making fast food with healthy vegetables or fruits. Rotating the thickness control can help you to choose thickness you want.(Note,the bigger number is, the thicker the slice will be). Ideal for making perfect cuts with any vegetables, insert for making tasty fries or healthy vegetable snacks, with the Classic Slicer, chop onions or garlic in no time or prepare the best garden salads! Cut food into various shapes and thicknesses. Different sizes are used for different Shape purposes. There is no need to change the blade, Just rotate the control button of the shape you want.
Shop Multi Purpose Vegetable Slicer & Chopper
8.3 in 1 Magic Trio Peeler Set Slicer Stainless Steel Peeler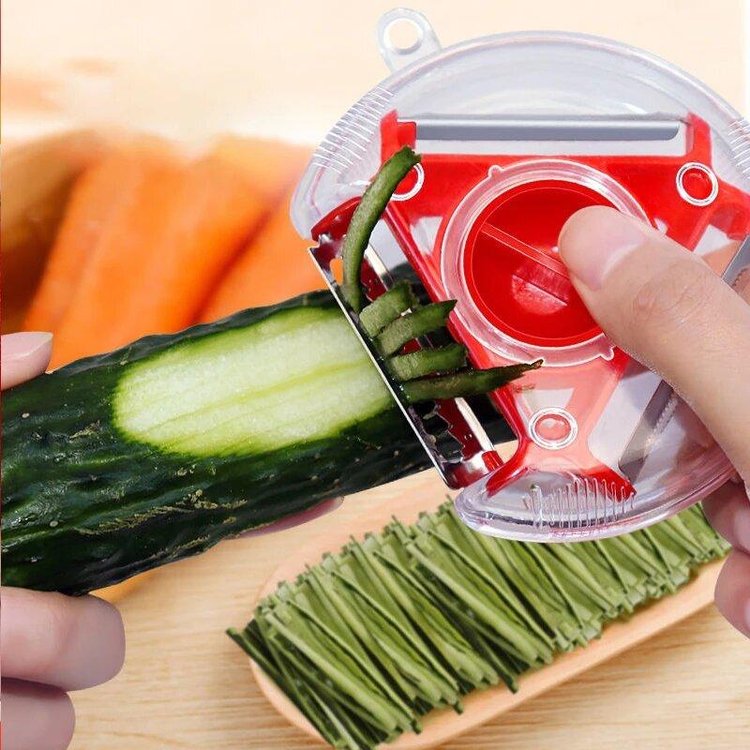 New design combining three different blades(standard, serrated and julienne), to meet all your daily needs in one peeler. They are respectively responsible for soft skin, hard skin and shred. The peeler has 3 different blades, which are flat, serrated and shredded. Simply rotate the slicer to perform the required cutting, which can meet almost all your kitchen needs. The peeler blades are made of high quality stainless steel, sharp enough and not easy to rust.With the plastic shell, the peeler won't hurt your hands accidentally and has a good dust-proof function. Open the blade cover from the back of the rotary switch and turn it to separate the upper and lower covers, remove the cover, take out the blade and rinse with water. Try to use shredded and shredded blades to make beautiful shredded radish, and use the serrated slicer blade to marinate delicious pickles.
Shop 3 in 1 Magic Trio Peeler Set Slicer Stainless Steel Peeler

9. Cake Cutter Slicer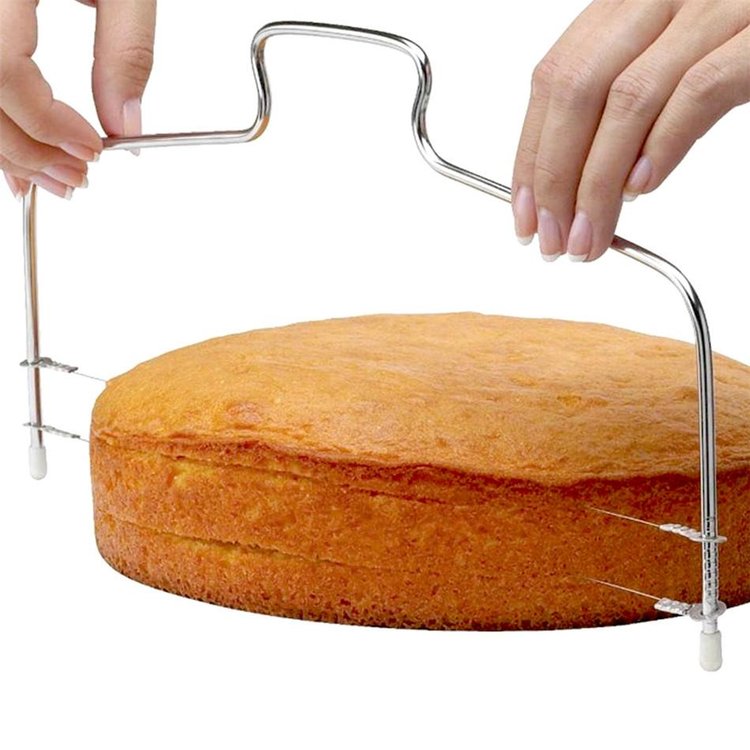 Enhance your baking experience with our best-in-class Stainless Steel Cake Slicer. This slicer helps you evenly slice cakes, brownies, and other pastries effortlessly. Just adjust the wires on either sides for the required height and pull through the cake to slice even layers.
10. 2-in-1 Vegetable Chopper Dicing & Slitting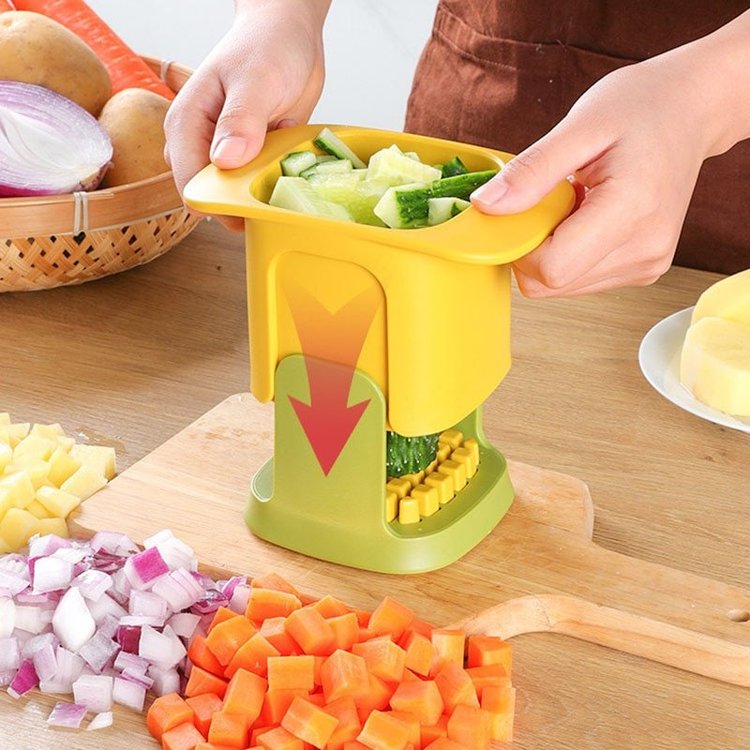 Shop 2-in-1 Vegetable Chopper Dicing & Slitting
11. Household manual meat cutter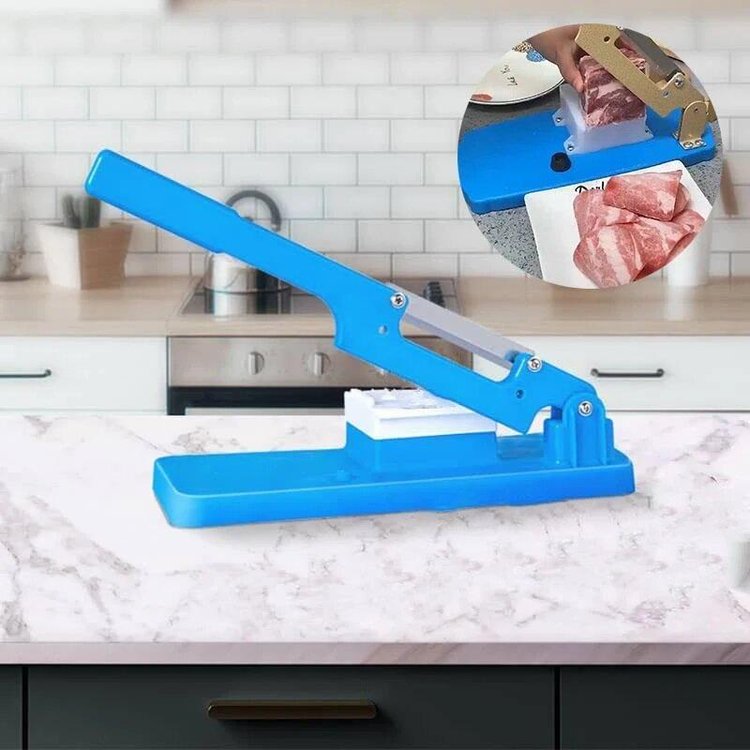 Suitable for cutting donkey-hide gelatin, rice cakes, potatoes, sweet potatoes, radishes, meat, etc. Simple operation, sharp blade, uniform size, firm, and durable. The blade is made of alloy steel, the base is made of environmentally friendly engineering plastics, the white tool pad is made of environmentally friendly food-grade plastic, and standard screws and nuts. The seventh-generation slicer can perfectly solve all the defects caused by the surface treatment of the iron knife holder.
Shop Household manual meat cutter

12. Egg Cutter Multi-Functional Egg Slicer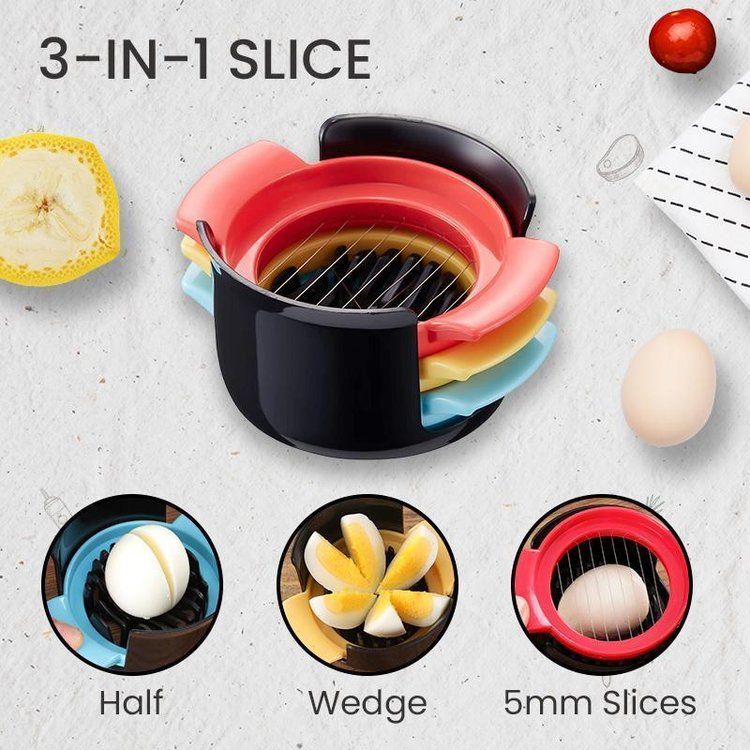 The egg cutter is very convenient to operate, just a light press. The base bracket is very compact and will not slip off. Made of durable food-gradeABS, heat-resistant, and drop-resistant.The cutting line is made of100% stainless steel wire, easy to clean, and dishwasher safe. Very suitable for cuttingboiled eggs, preserved eggs, strawberries, dairy products, mushrooms, and even soft cakes. This useful base can stably fix the egg,avoid falling under pressure, and can completely control andprevent damage to your hands. Cut into thinslices, cutin half, and cut intosix equal pieces. The cut food isclean and tidy, saving time. With the help of this sharp stainless steel cutting line, you can cut eggsquickly, easily, smoothly, neatly, and almost without chaos; the ergonomically designed handle is comfortable to hold and use.
Shop Egg Cutter Multi-Functional Egg Slicer

13. Meat Garlic Onion Slicer Cutter Chopper Manual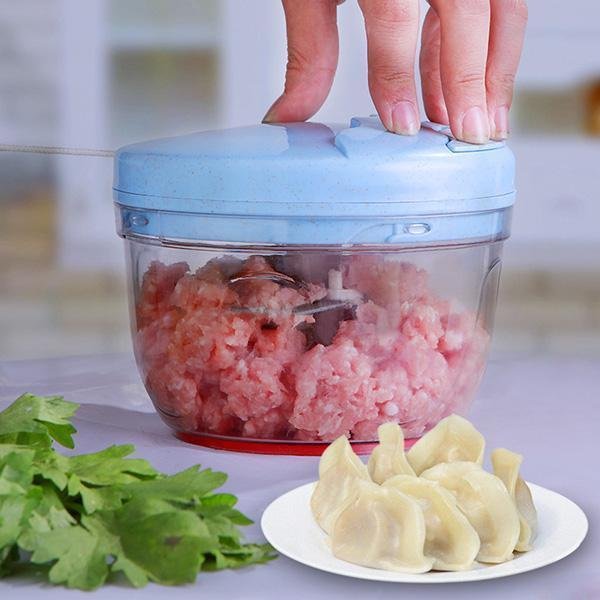 Product material: Natural plant fiber material, wheat straw, and food-grade PP composite, safe and environmentally friendly, no odor. Breaking the traditional manual cutting: Cutting vegetables with a hand pull rope, blade and hand zero contact method, there is no risk of injury, and the safety is high. Say goodbye to the flat cutting board, stainless steel 3 leaf rotary blade quickly cut and is more convenient for your kitchen cooking.
Shop Meat Garlic Onion Slicer Cutter Chopper Manual

14. All-in-one Rotatable Vegetable Cutter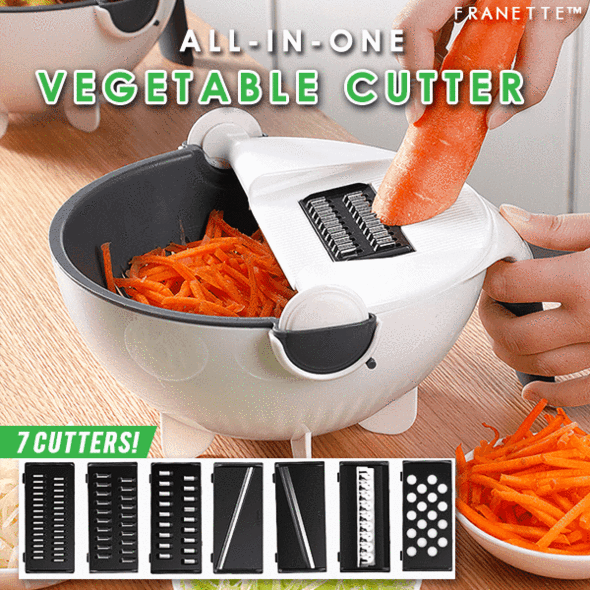 All-in-one Rotatable Vegetable Cutter helps you prepare meals effortlessly- From CHOPPING to SLICING to GRATING fruits & vegetables! This upgraded cutter contains 7 interchangeable blades including 3 julienne peelers, 2 slicers, 1 grater & 1 crinkle cutter! Convenient to cut vegetables and clean them directly through a drainage device by rotating the cutter. Also acts as a container to store fresh vegetables after draining all water off.
Shop All-in-one Rotatable Vegetable Cutter

15. Food Slice Assistant Kitchen Tools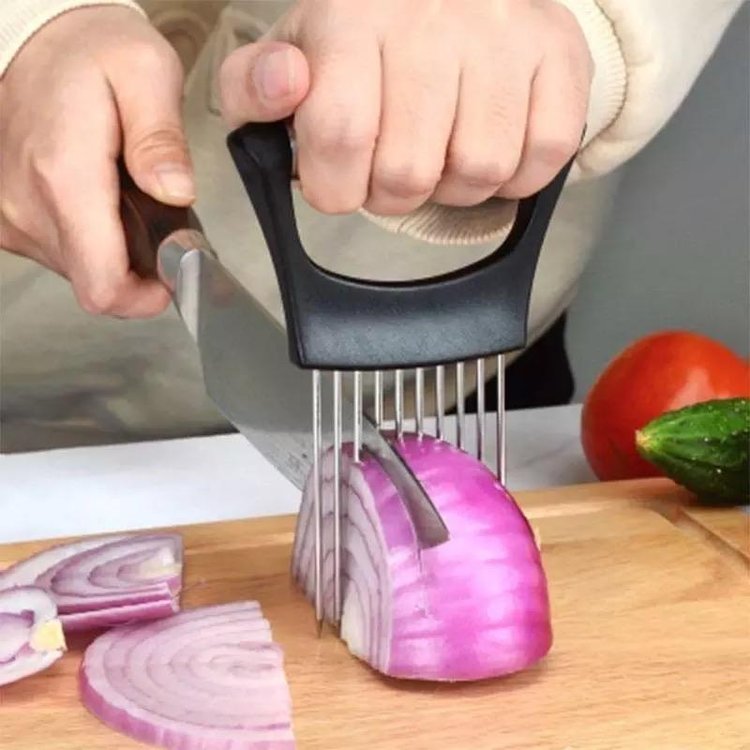 A quick way to cutting various kinds of vegetables! The 10 prongs are designed to make a wide variety of cuts in tomatoes, onions, carrots, beets, potatoes, and any kind of meat or vegetable. Easy to use, store, and clean. Non-slip ABS handle makes your holding more comfortable. Convenient finger guard & finger protector avoid hurting when slicing and dicing. Perfect for making quick meals from healthy veggies or fruits like apples, onions, carrots, zucchinis, cucumbers, cabbages, beetroots, turnips, rutabagas, cucumbers, radishes, potatoes, sweet potatoes, squashes, and more. Works great even for long and wide vegetables. No expense was spared in making this the best quality food/onion holder. 10 prongs are made of hardened stainless steel to ensure they will always stay ultra-sharp.
Shop Food Slice Assistant Kitchen Tools

16. Kitchen Scissors With Cutting Board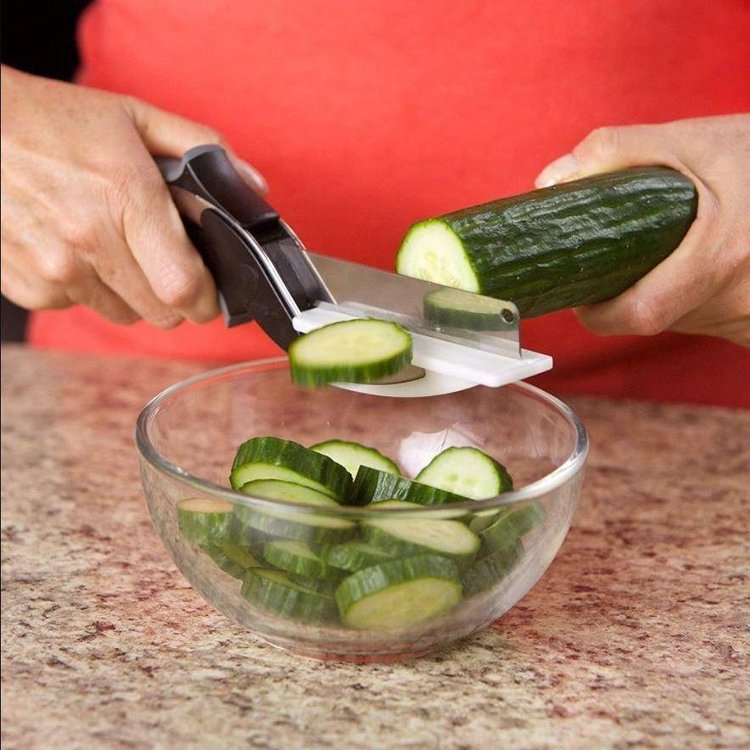 Cut Any of Your Favorite Foods with Ease! Do you find it difficult to cut vegetables and fruits? This Clever Cutter - Kitchen Scissors With Cutting Board is the best cutting solution for veggies, fruits, and meat featuring a revolutionary design and armed with super sharp stainless steel blades. The Clever Cutter - Kitchen Scissors With Cutting Board can help you ease your way through daily cutting, and slicing tasks in the kitchen. Use the Clever Cutter to slice anything. A small compact food chopper and kitchen scissors, which replace a full set of knives and cutting boards. Use these unique kitchen gadgets to replace your food chopper, food scissors, vegetable slicer, and fruit cutter.
Shop Kitchen Scissors With Cutting Board

17. 2 in 1 Watermelon Slicer with Fork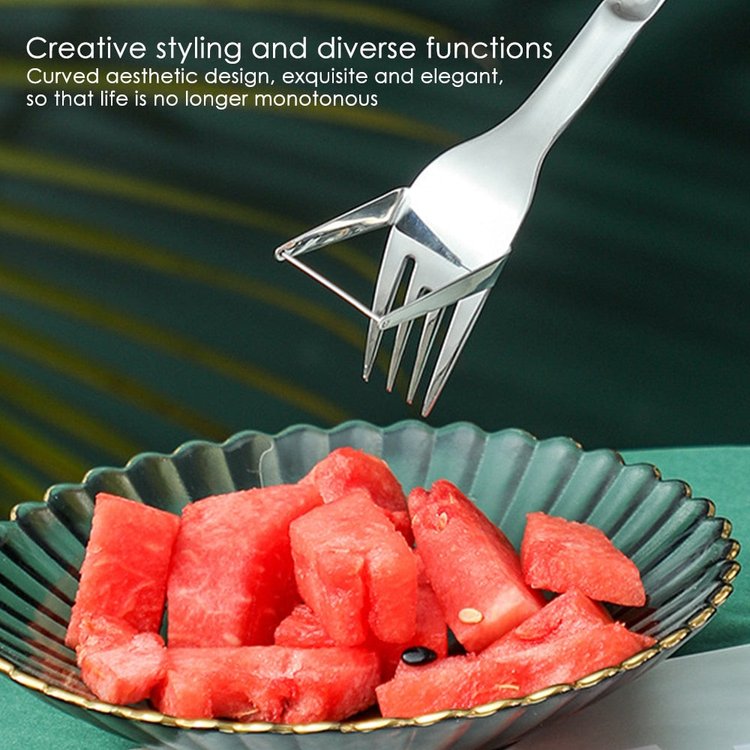 Cutting A Watermelon Like A Chef With These Creative Watermelon Slicers! Whether you are entertaining friends or hold a family party, this portable watermelon windmill cutter is perfect for making melon salad, fruit platter and much more. Multi-process production, stable use of gripping and more assured. Longer and thicker handle, comfortable grip. Made of 304 stainless steel, food contact material, the material is corrosion-resistant, not easy to rust, and easy to clean. Easily cut into pieces, uniform pieces, suitable for plate setting. Cut the melon cleanly, without wasting, indulge in the sweetness and crispness, pour the cut watermelon pulp directly, and enjoy the deliciousness.
Shop 2 in 1 Watermelon Slicer with Fork

18. Pressed Garlic Chopper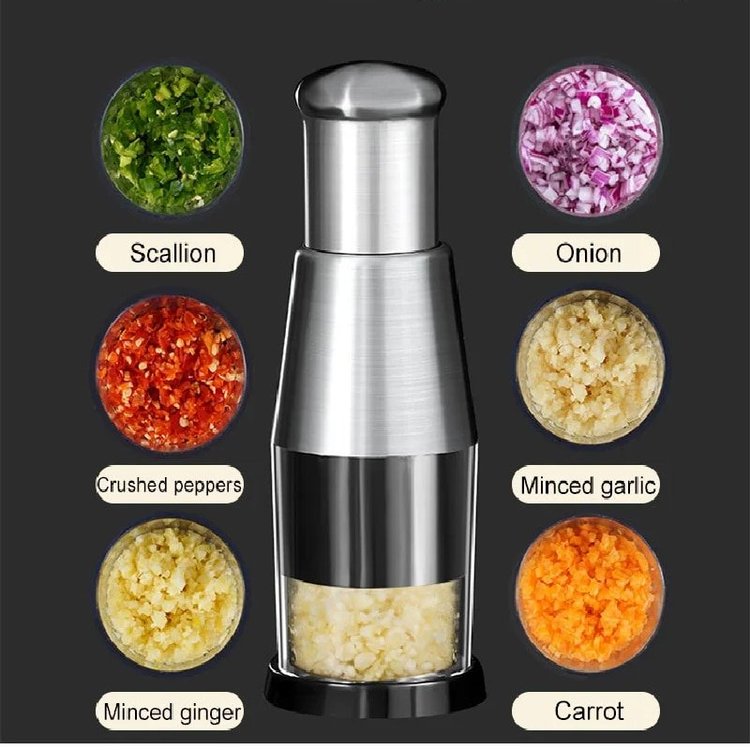 Great kitchen convenience gadget for family and friends who love to cook or have arthritis. With this Pressed Garlic Chopper, you can prepare ingredients quickly and save time and effort. The hand-pressed stainless steel kitchen crusher is made of high-quality ABS、PS and stainless steel material, which is not easy to rust, impact-resistant, wear-resistant, and strong and durable. The garlic masher has been treated with electroplating, and the appearance is smooth and bright, which can effectively prevent stains and is easy to clean. This masher can help you prepare ingredients quickly, saving time and effort. Suitable for mincing garlic, slicing peppers and onions, and handling a variety of ingredients.