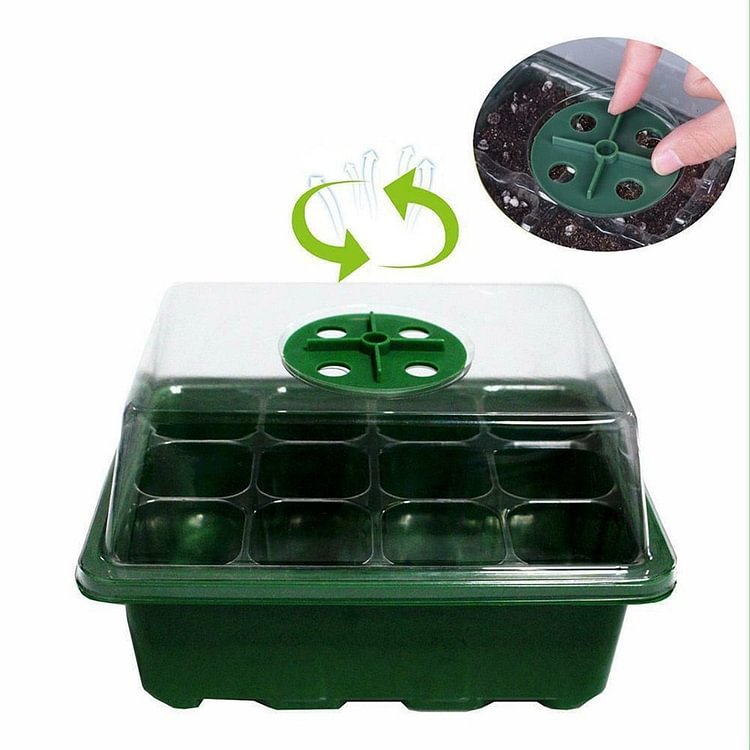 An easy way to start seeds indoors!
Grow perfect seedlings every time with Seed Starter Tray. Start all your seeds in one kit! Easy-Care, Earth-Friendly Seed Starting Kit — 100% Germination Guaranteed! Grow Your Best Seedlings with our Seed Starter Tray -- Now Organic!
Feature:
With drain hole at bottom of each cell for proper drainage, reduce roots over saturating.

Unique Design: High quality clear plastic trays of this seed grow kit make it easy to observe your plants without interrupting the process.
12-pin tray is convenient for everyday use.  

Use the seed trays for sowing, saving time and effort, the operation is also very convenient. Widely used in flowers, vegetables, fruits, trees, tobacco and other agricultural cultivation. 

Seeding box facilitates centralized management of the sowing time and is easy to operate. 
Transparent lid has a moisturizing and moisturizing function that allows you to clearly see the growth process of the seedlings. 
These trays with 5 cm depth cells are suitable for bottom irrigation. The trays can be stacked for easy storage to save space.
Base tray provides the space for excess water draining without plants sitting in water, so you won't drown your seedlings, gives warmth to the seed bed and balances moisture level.
Specifications:
Colors: Green
Material: High Quality Plastic
Depth Cell: 2.2'' 
Unit Size: 7.4'' x 5.7'' x 4.3''