Cutting A Watermelon Like A Chef With These Creative Watermelon Slicers!
Whether you are entertaining friends or hold a family party, this portable watermelon windmill cutter is perfect for making melon salad, fruit platter and much more.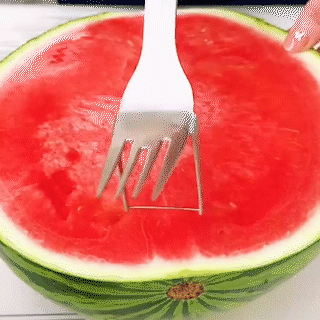 Feature:
Multi-process production, stable use of gripping and more assured
Longer and thicker handle, comfortable grip
Made of 304 stainless steel, food contact material, the material is corrosion-resistant, not easy to rust, and easy to clean
Easily cut into pieces, uniform pieces, suitable for plate setting
Cut the melon cleanly, without wasting, indulge in the sweetness and crispness, pour the cut watermelon pulp directly, and enjoy the deliciousness.
Specifications:
Material: SUS 304 Stainless Steel
Color: Silver
Weight: 41g
Size: 21cm
Package Includes: 1x 2-in-1 Watermelon Fork Slicer