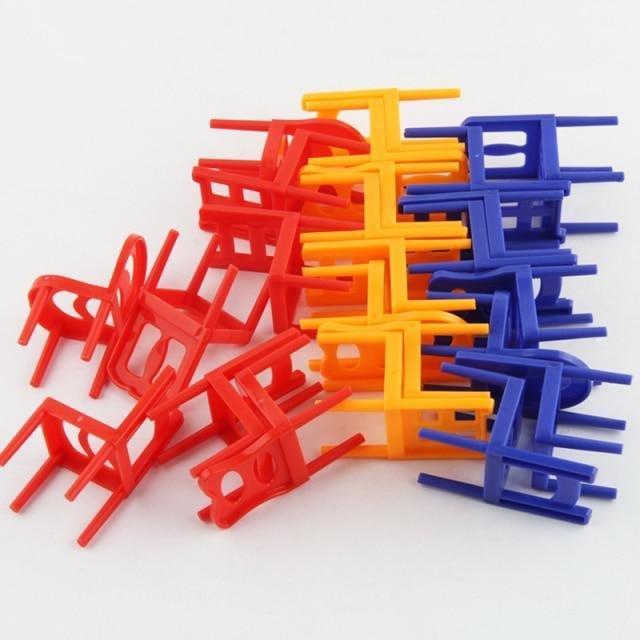 HOW HIGH CAN YOU STACK?!

Unleash the Fun

An enthralling game where every move could be your last! These balancing chair games breathe new energy into game night, give little ones a great mental workout,
and keep both kids and adults on the ends of their chairs (pun intended!). Every pack comes with a 12 stacking chairs designed in red, blue, and orange. The aim of the game is to stack the little chairs in turns, trying not to cause the tower to come crashing to the ground. It takes a
mix of calculation and touch; a formula that ignites hours of fun.

Great Gift Idea

Shopping for a present for a smart kiddo that loves a good mental challenge? Looking for a gift that will both thrill and teach? Birthday party favors that complement
any theme? These colorful balancing chair games make an awesome treat! They're great for both boys and girls and come beautifully packed in colorful boxes for
eye-catching presentation. We believe in the quality of our stacking chair games so much that we've backed them with a 100% money-back guarantee. Get to make
anyone smile without having anything to lose!

Here's why you'll love these stacking chair games:
✔Fun for kids and whole family.
✔Each set contains 18 chairs in assorted vibrant colors.
✔ Fun-to-play and clear & concise instructions guide included.
✔Made with durable plastic to withstand countless tumbles.
✔Great development tool that teaches coordination and deduction.
✔Perfect as a gift, party favor and stocking stuffer for kids 3+
✔Backed by a no-hassle, 100% money-back guarantee.
Go ahead, fuel the fun with a game everyone will relish!