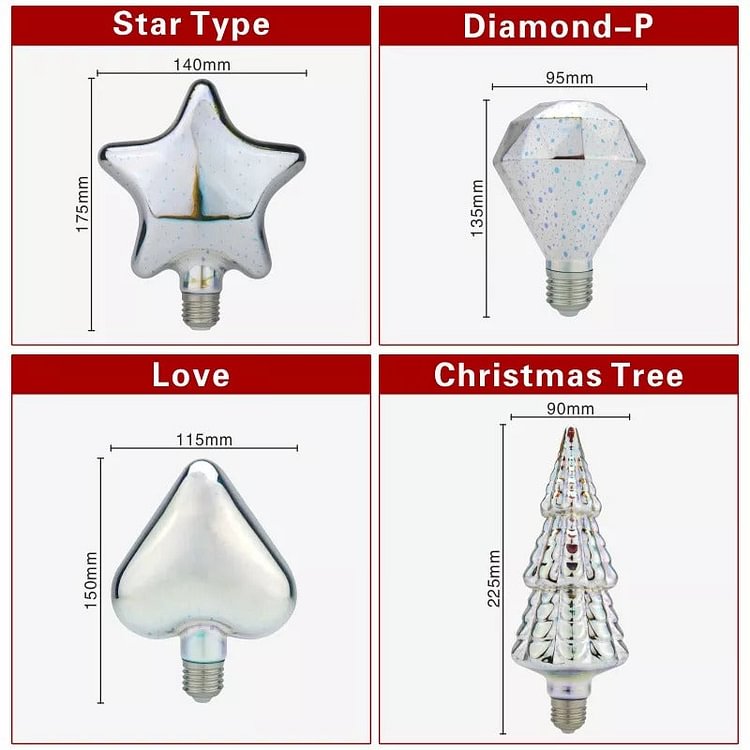 Add a starry feeling to your life!
Halloween, Christmas, New Year's, the 4th of July, birthday parties, Netflix & chill...these 3D illusion bulbs would make delightful decor for pretty much every holiday and special occasion.
Almora 3D illusion bulbs come in a bunch of different styles and sizes; some are large enough for dining room chandelier-style or commercial installations, while standard sizes and unique shapes make for nice desktop art. 
Features:
The light emitted by these LED bulbs is non-dimmable and they make for a highly efficient energy source.
They have an average life of 10,000 hours and can fit a standard light socket.

They are equipped with an instant on feature, which allows them to glow at full capacity even at subzero temperatures.

The unique special decorative lights will change when lit, resulting in a 3D flame effect appearance; great room decoration

3D pyrotechnic effect LED party bulbs add color to the terrace, office, home, party, wedding or any festive occasion

Specification
Material:glass
Weight:150g
Size:

Products include:1 x 3D colorful firework light Bulb