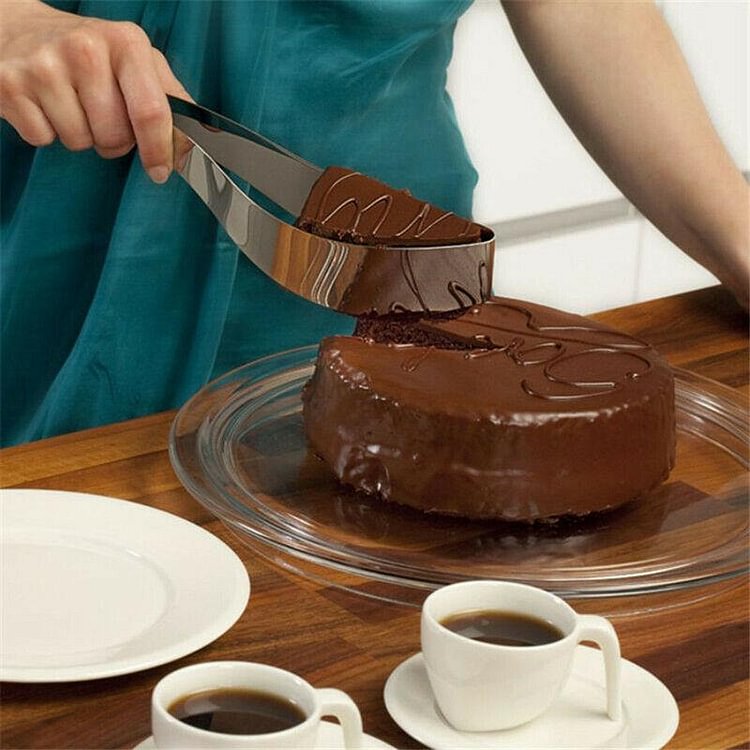 How do you cut and serve your cake?
With a knife and spoon? Okay, let us rephrase the question.
How many times did you ruin your beautifully glazed, scrumptiously layered cake slice while shifting it to the serving plate using that very knife and spoon?
Yep, you might need help to count those incidents on your fingers. Of course, you must have tried the trending hack to scoop it with a glass. But, honestly. It's not that appetizing. Don't you agree?
Hello! Why fear when we are here? Our stainless steel cake slicer and server works as a cutter, slicer, and server all in one. The best part, your slice won't slip away and nor the happy expression from your guest's face.
What you'll get:
No serving mishaps: Our cake slicer will help you keep your yummy cake layers upright. Simply slice the sweet with this and transfer it as a whole to the plate.
Multipurpose: This cake divider is perfect for cutting bread slices, pies, pastry, pancake stacks, wedding cakes, etc.
Save your time: You don't have to make the double effort by cutting the cake with a knife and then challenging your balancing skills to serve the beautiful piece. This all-in-one slicer and the cutter will do the job at once.
This Is A Great Gift For yourself or your friend!
Click "ADD TO CART" To Get Yours Now!
MAKE DESSERT PRESENTATION BEAUTIFUL: Serving desserts, especially those with layers is a chore. Your cake almost always winds up on its side with the layers coming apart. Now you can keep the cake upright and intact with this perfect cake server. It holds the piece together while moving it to the plate so that gravity can't ruin your evening.

EASY TO USE: This cake server is easier to use than traditional cake servers. It does the cutting and the serving all at once so you cut your hosting time in half. All you need to do is press the cake server through your dessert, squeeze it gently for lifting the piece onto the place. Place it on the plate and release slightly on the server to remove.

PERFECTLY UNIFORM CUTS: No more kids complaining that someone got a bigger piece than them and no more people eyeballing each other's slice at the table. Now everyone gets the same size and shape cut of dessert. Not only does it keep everyone happy at the table, but it makes you look like a professional hostess and server.

HIGH EFFICIENCY: Cake slicer's advanced, one-hand design serves more efficiently and with less trouble than using a slicer and a fork—and there will be fewer utensils to clean up afterward. Suitable for all cakes, and most pastries and other desserts. Dishwasher safe.

SIZE: The size is a 9.8x1.7x1.5 inch. Made of 304 stainless steel, perfect for cutting the cake, pie, pastries, etc. The sides of the cake are fairly stable as it is cut and squeezed to serve.