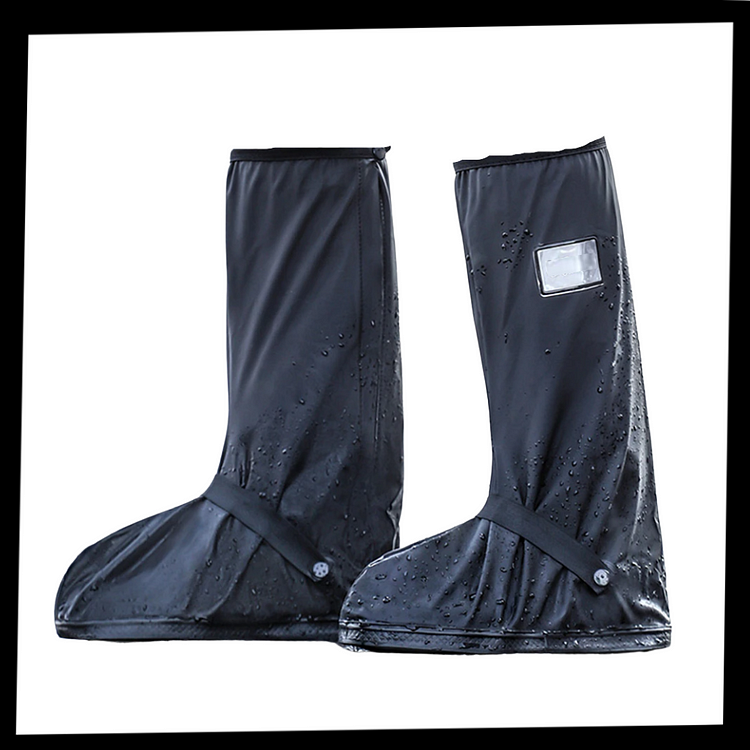 Adequately protect your footwear from rain and wet conditions and ensure they last longer with this waterproof shoe cover.
Perfect Footwear Protection
Have you ever been caught out in the rain while wearing pretty expensive or delicate footwear you would rather not expose to wet conditions? Well, in that situation, you were most definitely praying for them to remain in perfect condition. And why wouldn't you be thinking that; after all, shoe care can be pretty frustrating. This is especially true if the footwear you're putting on is made of suede material or some other delicate material.

But here's the thing, fear of exposure to rain and other unfavourable conditions shouldn't stop you from wearing whatever shoe you want, and with this versatile shoe cover, it certainly won't. This is because this shoe cover offers excellent protection from rain, dust and even oil. This means that it doesn't matter where you go/are; as long as you have this waterproof shoe cover, your footwear will be well protected.
Now, as you may probably be aware, there are several different footwear protection products available for sale in several markets. However, for the most part, these products are unable to offer adequate protection for your footwear. Some products that claim to be "waterproof" often end up allowing water to pass through, and this could be disastrous, especially if your footwear is incompatible with prolonged exposure to water. The same thing goes for dust, oil and other potentially damaging substances.

This waterproof shoe cover, however, stands out thanks to its premium-quality build. This shoe cover is made of quality materials that ensure that you get exactly what you paid for; excellent protection.
Now the next question on your mind is likely to be, "this is a great accessory and all. However, will I be able to wear it on my sneakers or sandals?" The answer to that excellent question is YES! This is because this shoe cover has a versatile design. This means you will be able to wear it comfortably on almost any type of footwear and instantly have access to excellent protection and preservation.
Another advantage this rain shoe cover has over several other shoe protective wears is the fact that it has high durability. Usually, what you have/find is that most shoe covers easily tear or rip, which will definitely compromise the integrity of the protection they offer. This versatile shoe cover, however, is very durable thanks to its high-quality build, so you definitely have nothing to worry about in this regard.
One of the best possible reasons for you to seriously consider getting this excellent shoe protective cover for yourself is the fact that it is very easy to use. Really, all you have to do is wear it over your shoe, secure it, and you're good to go. It is easy to wash, so you don't need to worry about mud, and it is also very lightweight, so you can easily carry it wherever you're going.