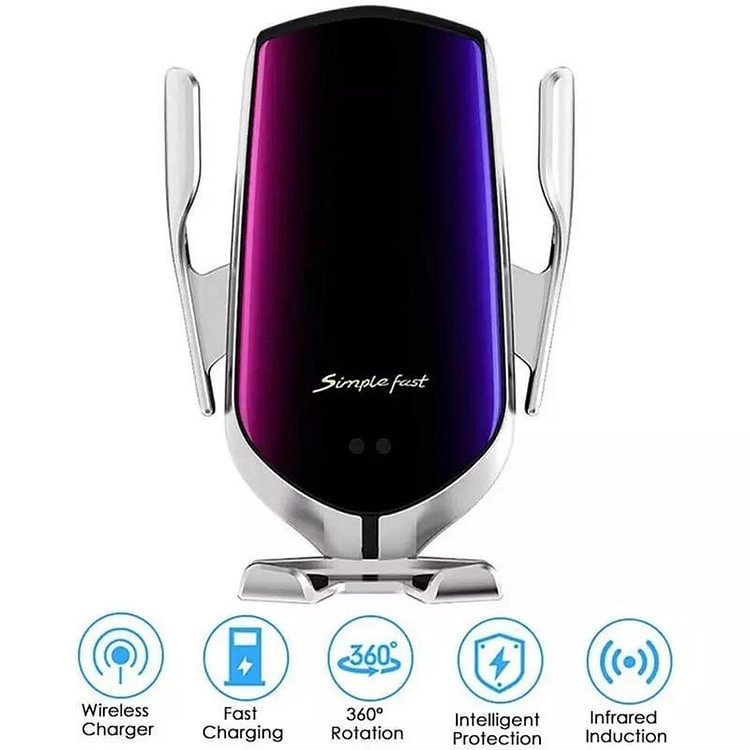 Features:
Makes phone accessible on-the-go
Smart sensor design for auto-clamping & quick releasing
Allows one-hand operation
Wireless charging (Qi technology-enabled)
Flexible 360° rotating charging holder
Compatible with phones sized 4 – 6.5 inches
Description:
Mounting your phone where you can see it while driving has passed into the norm. Whether you use it for the GPS system or entertainment, you will want to have easy access to your phone, or at least have it within your visual field.
Smart Automatic Sensor Design. Automatic opening and clamping design which can be operated by one hand and make everything easier. Just place your phone inside the holder, the clamps will close and catch your phone firmly. With a gentle touch on the back top sensor area, the arms would automatically open.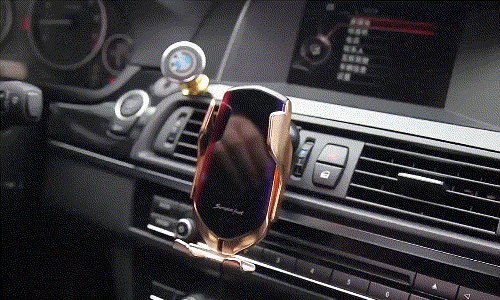 ---
360° Rotating Adjustable Viewing. Adjustable swivel ball which can fully 360-degree rotation allows for safe driving, which is the safest way to access your phone systems such as your GPS and phone calls. Horizontal and vertical modes are available for convenient use.
---
Avoid Overheating. You can easily attach the wireless car charger to the air vent, cool the phone, and avoid overheating the phone during charging.
Air Vent Phone Holder Mount. Compared with windshield or dashboard mount, the air vent mount is much easier for you to reach the phone in the car and causes less distraction during driving.
---
The Automatic Clamping Wireless Car Charger Mount supports all models that are Qi technology-enabled.
Specifications
Qi-certified: will wirelessly charge all Qi wireless phones, including iPhone and Android.
Support quick charge technology: Qualcomm quick charge 3.0
Supports 10W, 7.5W, and 5W
Scratch-resistant material
Thick case-friendly & faster charging
Strong and stable mount and clamp
Air-vent mount design for much easier installation compared to windshield or dashboard mount. Absolutely no tools needed. Can easily be installed into any car.
Smart infrared sensors: Simply wave your hand or phone in front of the infrared sensor, both arms will open automatically then get the phone.
What's Included:
Automatic Clamping Wireless Car Charger Mount
USB Charging Cable
Air Vent Mount
User Manual
Please make sure your phone has Qi and wireless charging capabilities before placing your order for this charger.