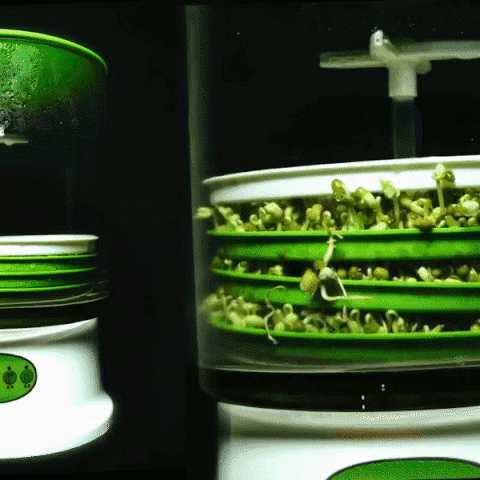 The Automatic Sprouter Machine is a germination machine professionally designed to set the right living environment for your seeds to grow without soil!
Take full charge and grow your very own organic leafy sprouts right in the comfort of your home with the Automatic Sprouter Machine!
Features:
UNIQUE - This Smart Automatic Bean Seed Sprouter Machine grow kit does not require soil. Grow nutritious sprouts from seeds and legumes-all year-round.
SIMPLE OPERATION - Simply press the start button and then the corresponding season button is selected according to the room temperature.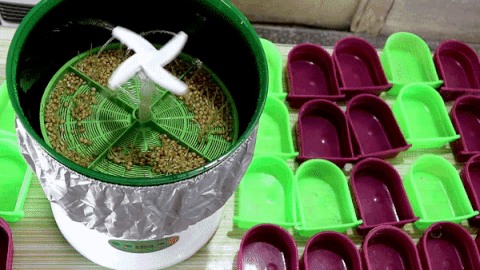 WATERING SYSTEM - It has a 360-degree automatic sprinkler circulation system that prevents uneven germination of beans.
ENERGY SAVER - It has PTC heating, which saves you electricity over time.
SAFE - The seed sprouted machine is made of food-grade PP material (non-toxic & safe).
How to Sprout Lentils:
1. Add water to the bottom of the pan until a high water level.
2. Connect the long water pipes and the outlet of the water pump completely to confirm that the cover can cover properly.
3. Place the trays in the feeding container.
4. Place the seeds in the tray. Pick these bad beans. (Grains or Beans must be soaked in water for 1-2 hours before they are placed in the machine)
5. Place the spray head on a long water pipe.
6. Close the cover and fabric cover on the unit to prevent the nuts from hitting the luminaire.
7. Press the power button and select one seasonal button.
(Note: when the temperature is below 18 ℃, a winter file is recommended.
For temperatures between 18 and 28 ℃, a spring-autumn file is recommended.
When the temperature is over 28 ℃, (summer file is recommended.)
8. Leave for 2.4-4 days or as needed. The air temperature will be watered at your choice.
Specifications:
Material: PP
Voltage: 110V/ 220V
Thermal Temperature Power: 20W
Water Pump Power: 8W
Germination Time: 2.5-4 days
Control Method: Micro-Computer Control
Package Includes:
1 x Automatic Sprouter Machine
1 x Cover Lid
2-3 x Cultivate Plate
1 x Water Tube
1 x Base
1 x Cultivate Bucket
1 x Watering Shower
1 x Sunshade Cloth