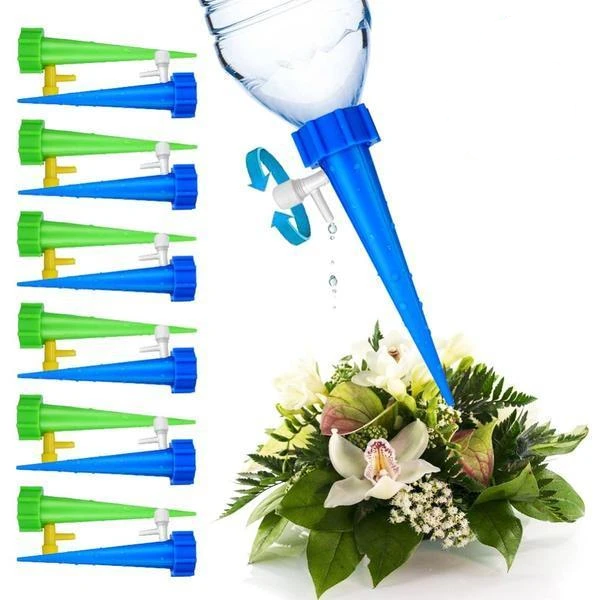 Keeps Your Plants Hydrated Even When You're Away!
Want to go on a vacation but too worried your plants might die from dehydration? Then here is our Automatic Water Irrigation Control System with the adjustable valve that controls the flow of water so you can leave your plant without any worries. The simple design allows you to install this easily and perfectly compatible with a wide variety of plastic bottles that you can recycle and use.The controlled flow of water lets your plant to be healthier and keeps them hydrated properly. 
FEATURES:
Adjustable valve:

 The plant watering device has a control valve that can control the dripping speed of 0-60s/drip, and the sustained release drip lasts for 1-15 days. Only adjust the valve to meet your needs without complicated setup steps. Save time and effort.

Simple and convenient

: No tools are required for installation, just drill some holes in the bottom of the bottle or cut the tail of the bottle to keep the air flowing. Just stick near your plant and adjust the water flow and you're done

Widely Compatible

: Suitable for a wide brand of bottles like Dr. Pepper bottle, Pepsi bottle, Coca-Cola bottle, Lipton bottle, Diet Coke bottle, Aquafina bottle, or other 1. 1-inch inner diameter bottles. (Bottle not included)

More healthy plants:

 With its controlled water flow this allows the plant to continuously get the required amount of water that it needs making you plant healthier in the process.

Recycle plastic bottles effectively

:Made of material ABS plastic, it can be reused for 30 years. Reduce waste and protect the environment.
SPECIFICATIONS:
Material: PP
Size: 13.5*2.7cm
Product color: blue & green