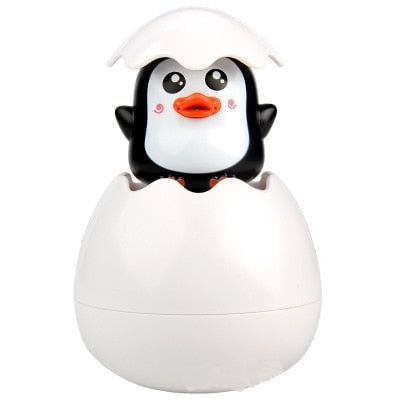 Hatching Eggs Bath Toys for Toddlers
This hatch-able egg might be the coolest baby bath toy ever! It even doubles as a mini squishy water toy!  It can be even more adorable and fun when this little hatching duckling comes to play in the tub.
This hatchling can not only absorb, it can also make bath time easier. Rinsing is always the hardest part of bath time, especially when the little one isn't old enough to lean their head back to rinse their hair.
Features
Interesting Babies Bathing Game: There are animal shaped spout covers that turn bath time into a mini play park as they can splash water, hide and seek, simulate hatch cute animals.
Educational Toddlers Activity Toys: What happens if the toy is filled with water? Water and rain, floating and sinking, various cute animals is that will interest your baby and stimulate brain development.
Safe Bath Toys for Baby: Eco-friendly, safety certification, tasteless and formaldehyde-free, free of PVC, phthalates, and BPA. Round and burr-free, does not hurt the hand, odorless, safer.
Apply as Bath Fun: Suit for 1, 2, 3, 4, 5, 6 years old baby/ toddler/ kids. Bath time, bathroom toys, free and interesting education.
Make bath-time fun for your little ones - and easier for you - with these brilliant range of baby bath toys.