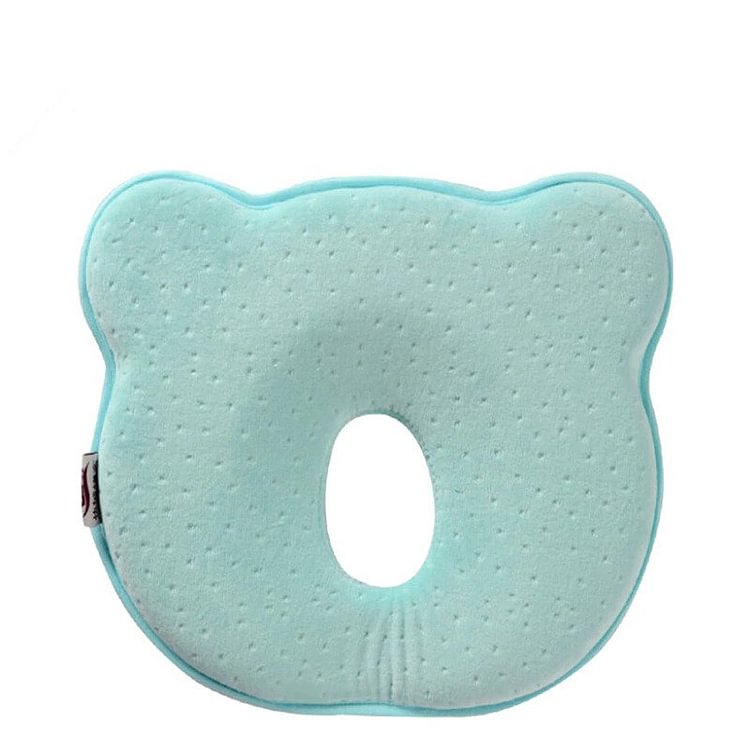 Help Prevent A Flat Head By Keeping The Baby's Head In A Healthy Position.



About 20% of babies under 12 months are affected by a flat or lopsided head. Doctors recommend that babies should always sleep on their back. However, this can deform the back of the head, a condition known as 'flat head syndrome.
Clinically proven to head shape development can be aided by the use of a special baby pillow. and highly recommended by doctors and physicians, internationally. Pillow eases the pressure on your baby's head and has been shown to get great results, particularly when introduced before 12 months of age.
This pillow encourages them to sleep on their back and prevents them from sleeping on their side thus promoting the healthy development of their skull Made of high-quality material These scientifically designed pillows are made of 100% high-quality memory foam. The breathable material allows for better airflow to the neck to greatly improve your little one's sleep quality and night comfort, as well as being soft and skin-friendly. An ideal gift for new parents and baby showers and is suitable for use in cribs, strollers, changing tables, etc. Recommended by pediatricians and osteopaths.
 Features:
Ideal to prevent and avoid flat head syndrome and plagiocephaly.

High quality material specially designed for newborns by its ergonomic shape and inclination, keep your baby's spine in the correct alignment.

Excellent pressure distribution and body adaptation: viscoelastic foam (memory foam) makes sure there is not too much pressure on the baby's head.

The pillow also provides relief for babies whose sensitive skin is easily irritated at pressure points.


Less hair loss due to reduced friction on the hair at the back of the head.

Very practical, it can be used both in the cradle, bed, stroller, rocking.


It can be used from birth. Thanks to its design allows for proper growth of the baby's skull.
Specifications:
Filling: memory foam
Pillow fabric: polyester cotton
Recommended age: Perfect from 0-12 months of age.
Pillow shape: bear shape
Pillow weight: 0-1 kg
Size specification: 26*22*3cm
Package Includes:
1 X Baby Memory Foam Pillow