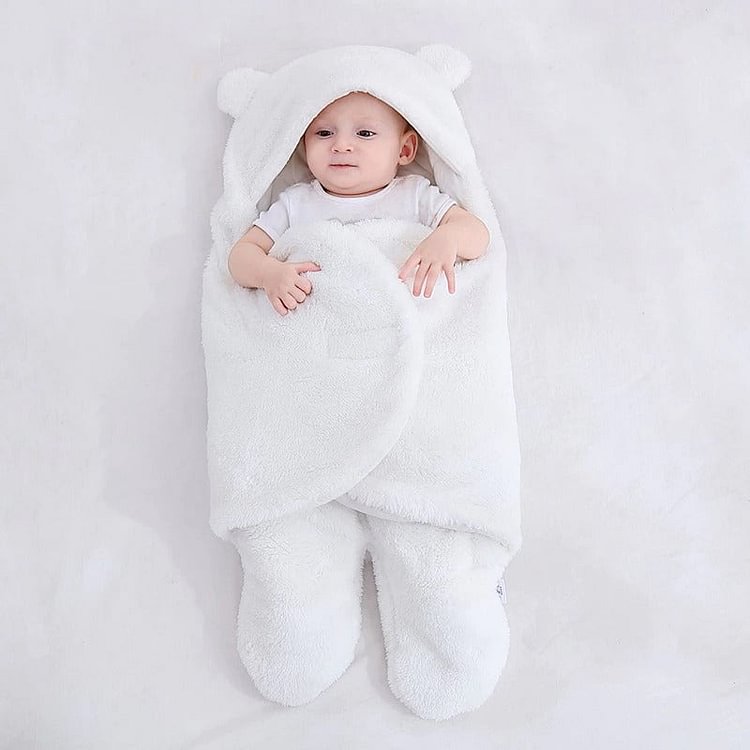 🤗Keep your baby warm throughout the winter🤗
This Baby Sleeping Bag will keep your little one warm, cozy, and also extremely cute, they will love it and so will you.​
Features: 
Intimate hat design: Protect your baby's head from the cold air, very warm.
Best Gift: Your baby will love it. Can be used as a sleeping bag and as a garment, and is also very soft.
Simple Velcro design: Will not let your baby feel trapped, and will not affect your baby's natural growth.
Kind and safe for baby's sensitive skin: Our bag is made of Thickened lamb wool, both inside and outside. It is very soft and comfortable, so it stays warm in the cold winter months.
Baby Sleeping Bag is made of premium cotton materials that are super soft and amazing for babies that love to sleep. The blanket is suitable for babies 0-3, 3-6 and 6-9 months old.
Luxurious Softness: Comfort your little one with the amazing softness of our swaddle blanket! This baby swaddling wrap is made from premium quality fabrics, a soft cashmere material that will become softer with daily use.
Very Safe for Babies Sensitive Skin: The plush and cozy swaddling wrap is made with 100% natural faux cashmere, with no harsh dyes or other harsh chemicals. Our baby swaddle blanket is hypoallergenic, antibacterial, odor-resistant, and super gentle on your baby's delicate skin.
Perfect Gift Idea: Order this lovely swaddle blanket for your little one or as a thoughtful gift for a soon to be the mother or a baby shower, and you can be sure to win her appreciation! The lovely colors and unisex design is suitable for both girls and boys!
 Specifications:
 Item Fabric: Cotton/Fleece 
 Item Color:  Milk white/ Pink/ Blue (As pictures show)
 Item Condition:100% Brand New
 Sizes: 3M = 84cm (width) *70 (length) cm, 6M= 90 (width) *78 cm (length)