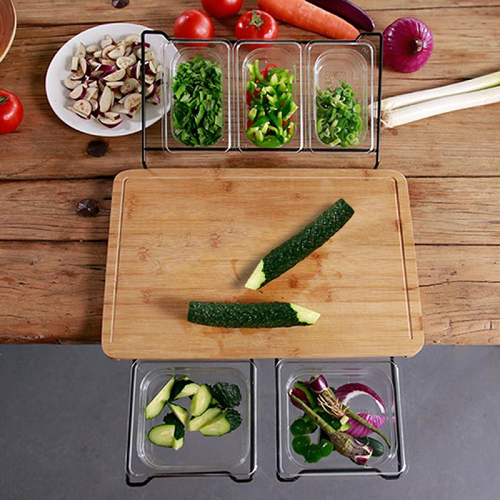 JUST ONE CUTTING BOARD, FREE YOU IN KITCHEN
Cooking is fun! But not the cleaning up afterward...
What is the best way to cook without the kitchen looking like a battlefield afterward?
Bamboo cutting board is made of 100% natural bamboo, an incredibly durable material,anti-scratch but gentle on knives.
The board is well polished with a smooth surface, no artificial coatings.
Features:
ECO-FRIENDLY MATERIAL: This bamboo cutting board is made of 100% eco-friendly untreated bamboo that is free from chemicals. It is a perfect choice for your family and the environment. Bamboo has natural odor and water-resistant properties, making cutting surface clean, safe, and hygienic.
MULTI-FUNCTIONAL & SPACE-SAVING: The cutting board won't occupy a large room of your kitchen with its extensible frame underneath the cutting board; 5 containers enough to retain chopped fruits vegetables or meat, even 1 container for the kitchen waste; an extra plastic board to hold your phone or tablet for recipes. 
NOVEL DESIGN: Newly innovated with a design patent to meet all your cooking expectations, you have NEVER seen a cutting board like this that will bring you more happiness during cooking! Built to cut meat, chop veggies, prep dishes, storage, etc. Advanced and helpful for home kitchen or restaurant cook. 
EASY TO USE: Just slide the food into the container while chopping, keeping your workplace clean and free! Wash the bamboo cutting board and containers with warm water and soap, simply hand wash or wipe with a damp cloth. Black Non-Slip Feet on the cutting board's bottom provides enhanced stability and keeps the bottom clean.
PERFECT GIFT IDEA: Stylish and novel design makes this chopping board a perfect gift choice. Not only a cutting board but also a cheese server. It could be used as cutting, carving board for preparation before cooking, heavy-duty butcher block for chopping, cheese, or serving board for Charcuterie Platter. Definitely a novel and surprising gift for your loved ones!
Specification:
Cutting board size: 43cm*28cm*1.8cm
Small storage box size: 17.5cm*10.7cm*6cm
Large storage box size: 17.5cm*16cm*6.3cm
Storage box 2 large, 3 small net weight: 414g

Package Include:
1x Durable Bamboo
2x Big Plastic Containers

3x Small Plastic Containers