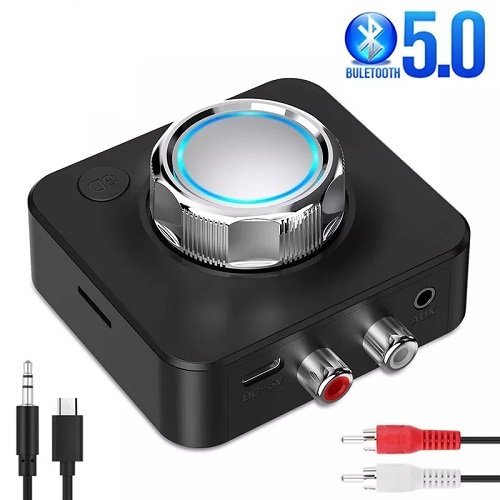 Product Features:
Unique 3D Surround Sound Function: With the 3D audio button, you can switch to 3D mode to enjoy the surround sound with High Fidelity from a normal audio source. Its advanced internal chip takes charge of the conversion to make it possible, using convenient lossless codes.
Auto On When you connect to the power, So its very good for to use in car or other you want it have auto on functions.
Dual Device Link: Simultaneously pair your smartphone and tablet and stream music from either one with any stereo system that supports a standard 3.5mm or RCA jack.Connect two Bluetooth devices at once to listen to music, make phone calls, and more.
Connect two devices: Support to connect with 3.5mm audio port and 2 RCA audio port at the same time.
Wireless Music Streaming: Stereo stream music to non-Bluetooth headphones and speakers.
Space-Saving Design: Ultra-compact and lightweight for convenient use with a variety of devices.
Super Stable Connection: Our Bluetooth audio adapter is fitted with a Bluetooth 5.0 chip for steady pairing, fast transmission and a wide signal range (33 feet). With the 3.5mm AUX port and 2 RCA port, it can be connected to non-Bluetooth car audio systems, home stereo, wired headphone/speaker, Amplifier/Home Theater.etc. Then you can enjoy wireless Hi-fi music streaming! Note: It's a vikefon Bluetooth receiver only, not a transmitter. So you couldn't use it for your TV, keyboard, mouse.
Auto-Connect:This Bluetooth receiver will automatically connect to the last paired Bluetooth device when you turn it on the next time.
Upgrade-KEY Button: Next song/Volume Up, Previous Song/Volume Down, Multifunction Button(MFB)
Upgraded to support SD Card play.
Note: No built in battery,So POWERED BY USB CHARGING.
Package Includes:
1 x 3.5 mm AUX cable
1 x 3.5 mm AUX to 2RCA cable
1 x USB Type-C charging cable