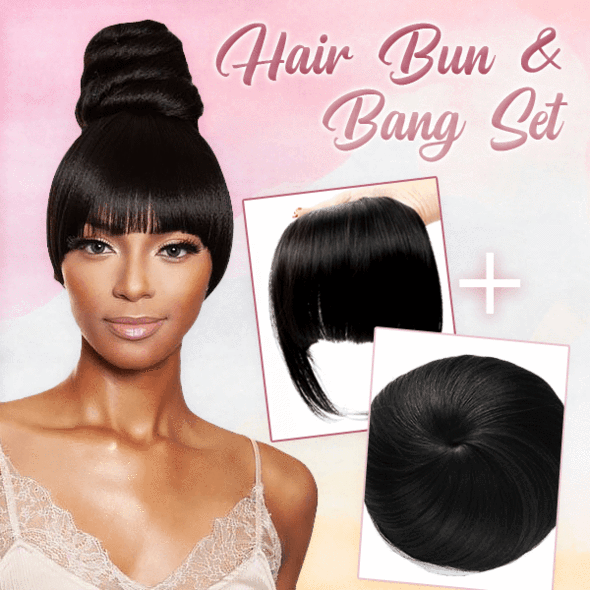 Hard to make perfect hair bun with bangs? Hair buns and bang set is ideal hair accessory to make SEXY, TRENDY look with top knot hair style! 💃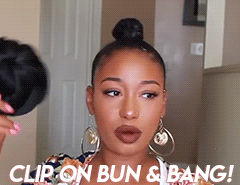 Instantly clip on hair bun without twisting & tying your hair in a mess. You can use bun & bang together, or separately use for different hairstyles.
FEATURES:
Trendy Bun & Hang Hairstyles




High hair bun with bang makes you look more youthful and girlish. Excellent for party, gathering and even casual look.



One-Bun with different styles


Make simple bun or top knot bun in messy style to match your daily outfit!

Separated 2-in-1 hair set


Use bun or bang individually or simultaneously depending on your needs.

Easy Clip-in Design
Simply clip to wear hair bang in a second! The clip & drawstring are invisibly hidden to create realistic look.
Natural like Real Hair


Made of soft, silky synthetic fiber that looks like real hair.

Restylable
Heat-friendly hair fiber which can be curled or straightened to change styling. Also able to be dyed!
Secure Clipping
Strong grips and drawstring securely attach to your hair and prevent bangs from loosing or slipping. Feel comfortable & secure to wear all day long without damaging to hair or scalp.
SPECIFICATIONS:
Material: Bundle Hair Bun and Bang Set

Size: 5.0 x 10.0 x 5.0 cm
PACKAGE INCLUDES:
1 x Bundle Hair Bun and Bang Set