Hard to make perfect hair bun with bangs? Hair buns and bang set is ideal hair accessory to make SEXY, TRENDY look with top knot hair style! 💃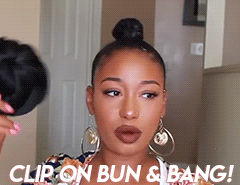 Instantly clip on hair bun without twisting & tying your hair in a mess. You can use bun & bang together, or separately use for different hairstyles.
FEATURES:
One-Bun with different styles


Make simple bun or top knot bun in messy style to match your daily outfit!

Separated 2-in-1 hair set


Use bun or bang individually or simultaneously depending on your needs.

SPECIFICATIONS:
Material: Bundle Hair Bun and Bang Set

Size: 5.0 x 10.0 x 5.0 cm
PACKAGE INCLUDES:
1 x Bundle Hair Bun and Bang Set