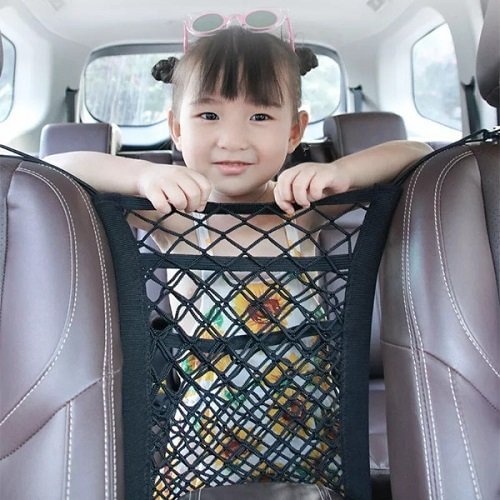 The Perfect Way to Keep Your Car Organized!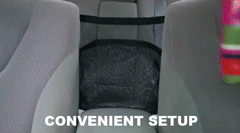 Never look for your lipstick lying under the car seat again! Prevent stains on the upholstery. Also, passengers will like the fact that they don't have to step on your handbag or hold it. So you'll never have to ask others to take your handbag and struggle to grab it yourself!
Car Seat Storage Net Hook Organizer is a good choice for your car:

Easy to use – 4 very simple installation steps. Easy to install and remove through 4 very simple installation steps.
A barrier for pets and babies – It is also a good barrier for pets. Not only does it keep you safe, but it also prevents your baby from crawling to the driver's side, making it safer in the back seat.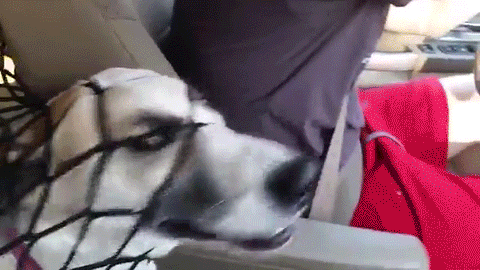 Handbag holder – Keeps your handbag easily accessible, clean and out of reach of passengers.

Multi-purpose – One organiser for different items: The Car Seat Storage Net Hook Organizer is ideal for small items such as umbrellas, gloves, charging cables, etc.
FEATURES:
MORE SAFE EQUIPMENT -  Simple way to make driving safer for you and preventing your pet from launching forward at sudden stops or climbing into your lap.
YOUR CAR'S NO LONGER IN A MESS -  Helps to classified storage your items and keep them in good order of reachable place.
HIGH INTENSITY ELASTICITY - Adopted thickened polyester fibers with strong flexibility, it can stretch to the perfect size based on different space between the driver and co-driver seats of various car models.
CONVENIENT SETUP - Equipped reliable safety hooks that makes the whole storage mesh simple hook up to the headrest pole within

1 min

, time and efforts saving.
BENEFITS:
Make your car neat and tidy. 

Practical and convenient in-car storage solution. 

Strong scalability, lightweight mesh construction makes it easy to pack.
SPECIFICATIONS:
Colour: Black 
Material: Oxford cloth + Mesh
Size: 30x25 cm

PACKAGE INCLUDES:

1 x Carseat Handbag Net Pocket Holder