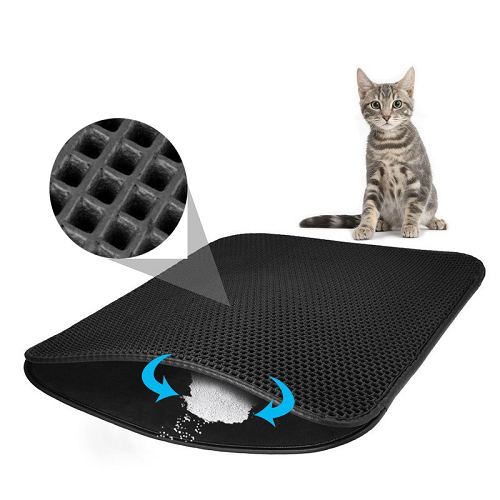 KEEP YOUR FLOORS LITTER-FREE!
''I've tried a lot of litter mats but this one is by far the best one I've had! It's soft on my cat's paws and it collects all the litter! I used to have to sweep scattered litter all the time but not anymore since using this mat.'' - Susan Hodgson
Tired of constantly getting cat litter stuck under your feet when the cat is dragging it all over the house? Our Waterproof Cat Litter Mat is here to solve that problem!
Features:
Advanced Eco-Friendly Materials. Super soft & light EVA materials that are non-toxic, gentle, and safe for sensitive cat paws

Super Easy to Clean. Dump the collected litter easily back into the litter box. Wash the mat with running water or use a vacuum
Water/Urineproof. The mat doesn't allow any kind of liquid to soak through the bottom layer, saving your floor and leaves no odors

Non-slip base layer. Keeps the mat in place through all the in and out that your furry friend does throughout the day

Durable materials. Tough washable materials that don't easily tear up
Available in 4 different sizes. Fits all cats and homes
Package Includes:
1*Cat Litter Mat