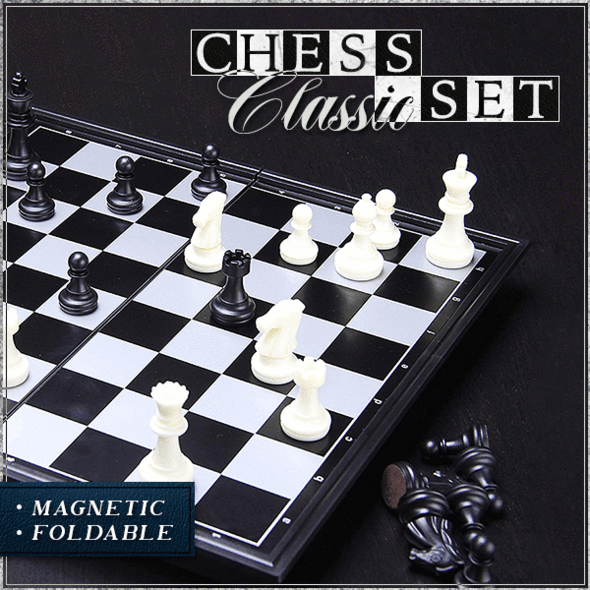 "Let's play." Interested in the world-famous chess game? Let's start your chess journey with this Classic Magnetic Chess Set!
This chess set includes a classic black & white playing board & 32 beautifully-crafted chess pieces with great details. The set is lightweight, foldable & magnetized.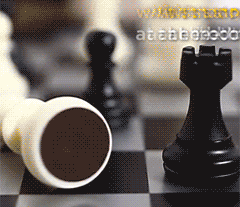 The best thing about this magnetic board is that it allows you to play your favorite game while on a train, in bed or even when you are having a boat ride! The pieces stand stably & will never fall down when you are focusing on your next move! You can play it anywhere, anytime!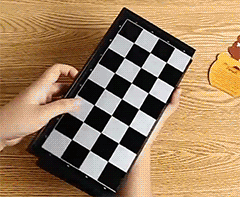 The board can be folded into a storage box for the pieces, ensuring that no chessman gets lost when you carrying it around. It is a fun learning activity for both kids and adults!
"Every chess master was once a beginner."
Work out your next move with this Classic Chess Set!
FEATURES:
Light Magnetism
With magnets, chess pieces can

 

stand on the chessboard stably

 

without falling from the board during the game. You don't have to worry about how flat the area is & play chess

 

anywhere & anytime,

 

like bed, sofa, car, campsite, playground, school & office.
Portable Size
This chessboard is

 

lightweight, foldable and easy to play on the go.

 

Just bring it around while you're traveling, camping or visiting a friend next door for a quick & fun board game!
Classic Design
It is a classic black and white chess set, which is

 

retro and simply elegant.

 

The surface of the board is smooth with matte technique applied, which can soften the visual conflict and reduce the light reflection.
Outstanding Quality
All come in a simple package, includes a folding chess board & 32 chess pieces, The pieces are

 

well-polished with great details.

 

It is overall a high-quality yet affordable set for personal use.
Brain Training
Chess can improve children's

 

concentration, patience, problem-solving skills, creative thinking & even mathematic abilities.

 

It is not only a game for the gifted one but also good for everyone who is interested in. This educational chess game is a great kids' gift option. 
SPECIFICATIONS:
PACKAGE INCLUDES:
1 x Classic Magnetic Chess Set