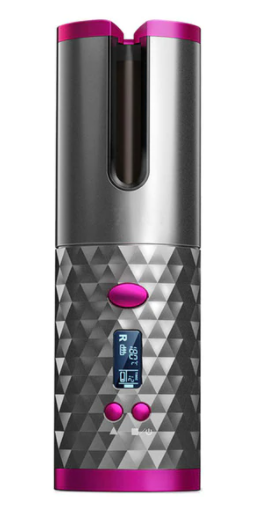 Our Cordless Automatic Hair Curler is a Must-Have Accessory For Any Woman Who Is On-The-Go and Doesn't Like Being Confined to a Wall Outlet!
Just a Few of The Hottest Features:
🔥 Simple and Easy Design - With instructions that are easy enough to learn in 1 minute, anyone can be an on-the-go hair curling queen. Your days of standing next to an outlet are over!
🔥 Crystal-Clear LED Display - Large LED display presents clear temperature, direction, and timer, it presents more readable and convenient use.
🔥 Intelligent 2-Way Rotating Technology - Curling your hair has never been this easy. Simply set the direction you wish to curl, wrap your hair into the curling chamber, and you will have the perfect curl in seconds!

🔥 Adaptive Heating System - With this iron, you are able to adjust the heating temperature and time on a whim to best suit your hair type and desired curl style.
🔥 Lightweight and Portable - The perfect iron to bring for camping, road trips, and vacations. Treat yourself with the perfect curls in your car right before a big event or night out.
🔥 USB Power Input - Fully charged in 4 and a half hours, it can then be used for up to 60 minutes straight while using a 5000 mAh lithium-ion battery.
Specifications:
Heat Variations: (150°C, 160°C, 170°C, 180°C, 190°C, 200°C)
Curling Times: (8S, 10S, 12S, 14S, 16S, 18S)
Color Options: Gray/Pink, White/Beige, Rose Gold/Beige
New Feature: Automatic Shutdown Function, even though it won't be plugged in and is significantly less of a fire hazard, you still don't have to worry about leaving your hair curler on because it will automatically shut down after 20 minutes without use.