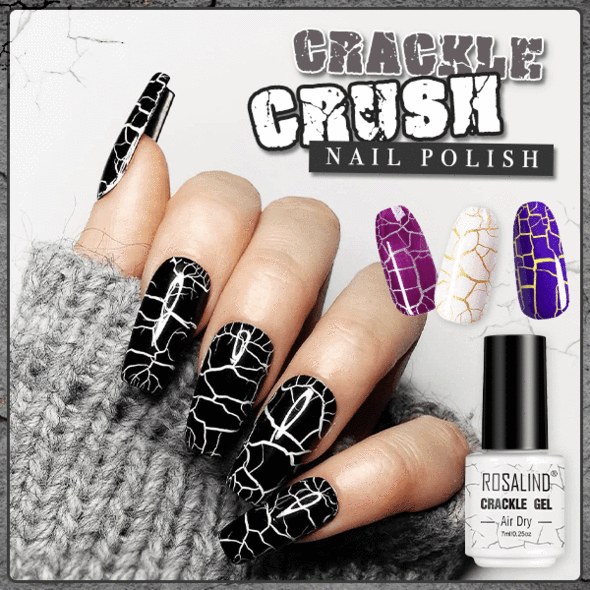 Create amazing crackle nail art! You will definitely be fascinated by the cracks developing in front of your eyes!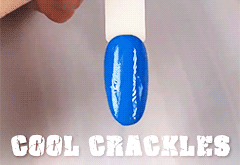 By applying a layer of CrackleCrush Nail Polish, you will get the incredibly cool crackled effect for your nails! Select contrasting colors and have mix-and-match to create unique & eye-catching nails! These crackle nail polishes are hassle-free, long-lasting for 2-3 weeks, and have various stunning colors.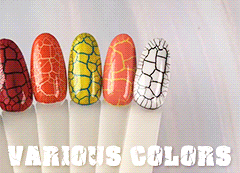 It is very easy to create - simply apply the base coat, color layer, crackle polish in order. The cracks will appear quickly, and the polish dries rapidly, either by lamp or air-dry. Great for both professionals and beginners.
Grab Yours Now!
FEATURES:
Awesome Crackle Effect 
Get the incredibly cool crackled nail art finish! With glimpses of the undercoat glancing through

 

the broken and shattered topcoat,

 

crackle polish is the

 

coolest nail trend

 

that you have to try in 2021!
Shockingly Easy
Apply the base coat and color base and let them dry completely. Then you can apply

 

a thin layer of the crackle glaze

 

and wait 30 seconds to get the best crackling effect.
Unique & Cool Designs
Have a play around with colors by

 

changing the base color

 

or

 

having mix-and-match

 

with other popular nail art elements - every design will be unique. 

 

Choose contrasting colors and you will have a more 

impressive

 

outcome

.



Great For Beginners
You don't have to draw the patterns

 

on your own with nail pens. Achieve the same or even better crackle effect with this! 
SPECIFICATIONS:
Capacity: 7ml / 0.25oz

Color: White/Peach/Lemon/Orange/Pink/Magenta/Avocado/Kiwi/Blue/Purple/Brown/Black
PACKAGE INCLUDES:
1 x CrackleCrush Nail Polish