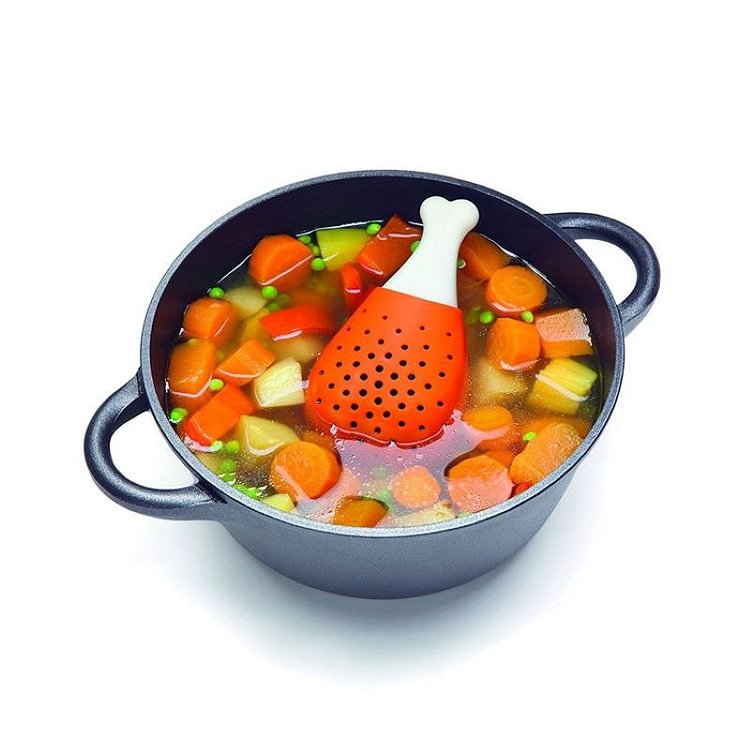 Having herbs and spice taste in the soup makes it delectable and proves healthy.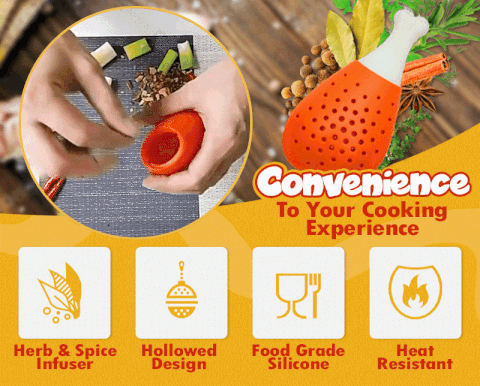 But grinding multiple spices and cutting herbs takes a lot of time and proves a toll. And in case you put uncrushed ingredients into your food, you'll become irritated if a black pepper, clove, or nutmeg comes between your teeth while chewing. 
Enjoy your broth to the utmost without any displeasure with this Creative Chicken Leg Shape Silicone Herb and Spice Infuser. It deeply steeps the taste and nutrition of herbs and spices while freeing your soup from their mass. This infuser is an easy-to-use and valuable add-up for your kitchen. 
No more trouble with getting your herbs and ingredients randomly mixed up and leaked when cooked for a long time, let it fully send out the flavors and spices in your soup. It will bring you a great cooking experience and it is also the perfect helper for soup and stew making.
Fun Design
With its fun drumstick chicken design and bright color, it will add excitement to your cooking and bring some fun to your kitchen. Its hollow design will allow the flavors and spices to easily spread in the soup while boiling in the water.
Food Grade
The silicone infuser is made of heat resistant and 100% food-grade material, safe and non-toxic. It can effectively maintain flavor to make delicious broth.
Easy to Use
The spice infuser is convenient to use with its large capacity, enough for many dry herbs, spices, and plants. The cap gives you easy access to add and remove ingredients.
Specification:
Size: 14.4cm x 5.7cm x 7.5cm