Are you looking for an original outdoor decoration that will impress your guests?
Add a welcoming touch to your garden or sidewalk with a beautifully designed flamingo. The bird creates a warm, inviting atmosphere during the day. It is also the perfect housewarming, birthday, or anniversary gift for friends or family.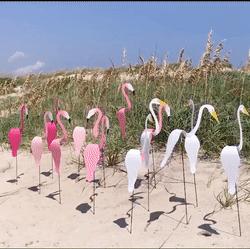 ✔️ Living decoration: Calming and engaging movements, it is the decoration that brings your garden to life!
✔️ High-quality materials: Made of durable material for long service life.
✔️ Suitable for indoor and outdoor use: you can use it indoors and outdoor. This decorative piece creates a tropical atmosphere that brings positive energy in and around your home.
✔️ Total installed height: 68 cm
Do not miss this chance! The previous sale of the Playful Garden Flamingo was extremely quick!
In Package:
1 x Playful Garden Flamingo
Installation manual
1 - Take the plastic accessories out from the accessory bag and place them on the iron rod;
2 - Stick double-sided stickers to plastic parts;
3 - Place the pasted plastic part on the base of the flamingo's neck and press it firmly;
4 - Fold the neck in half and bend it to the style in the picture;
5 - Finally, insert the rod into the plastic groove at the neck.