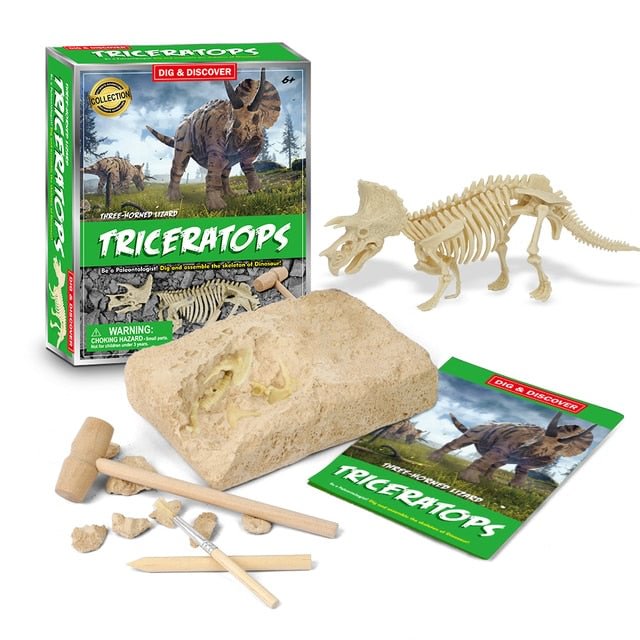 Explore the Jurassic World !
Got children who love to get hands on with everything? Are they also obsessed with dinosaurs? Deliver the best of both worlds with the Discovery Mindblown Toy Dinosaur 3D Fossil Skeleton Excavation Kit and your little boy or girl will have a grand time digging up the past! Junior paleontologists can excavate the remains of a T-Rex and a velociraptor with the provided three-piece tool kit.
Your child can chisel, hammer, and brush away at the kit's plaster rock to unearth replica bones they can puzzle together to create a 3D skeleton model! Spark your children's love for science and paleontology with a one of a kind toy excavation kit! It makes an excellent gift for birthdays, special occasions, or just a treat on a rainy day.
HIGHLIGHTS :
【Cultivate Operational Ability】-The fun of digging dinosaurs is not just the digging process. The excavated bones need to be cleaned and assembled, which can not only improve the child's mobility, but also improve the child's memory and increase the baby's self-confidence.

【Archaeological Excavation Of Dinosaurs】-Let children learn the fun and function of archeological excavations by tapping, brushing, and shovel, and training their senses. Understanding more about dinosaurs and understanding nature is of great teaching significance.

【Environmentally Friendly And Safe Material】-Realistic digging dinosaur fossil toy, made of durable, BPA-free vinyl-based. Non-toxic plasterboard. This creates a realistic dinosaur model set. Hours of worry-free games for children.


【Perfect Gift For Children】-Toy Gift This dinosaur character toy set is very suitable as an educational toy that stimulates imagination and creative thinking. Each dinosau

r is full of adventure and playfully stimulates imagination. In addition, this dinosaur toy set can also be used as decoration in the room.
SIZE :
Box Size : 17*21.5*5.5 cm
Soil Block : 14*9.5*3 cm

Dinosaur Size :  15*6 cm