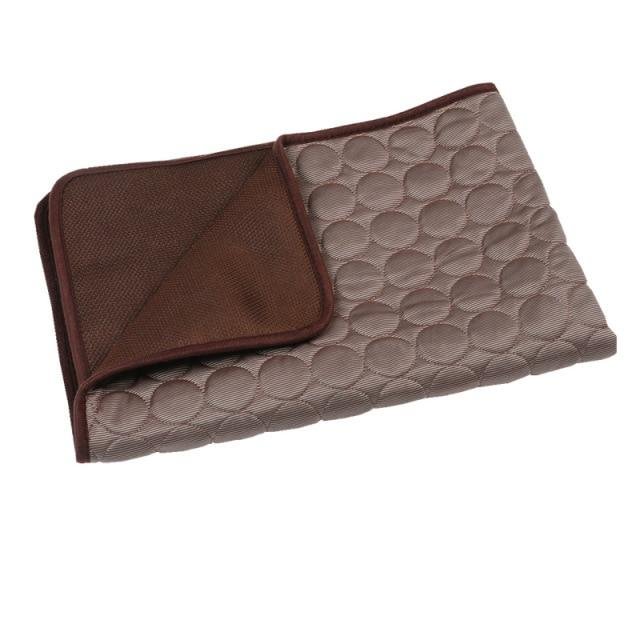 It can be very unsettling to watch your dog panting like crazy on a hot day.
Dogs don't sweat very much, and they wear a fur-coat everywhere they go, so it can be difficult for them to stay comfortable when the thermometer climbs sky high.
Fortunately, there is a solution: You can give your dog a cooling bed or mat, which will provide your pup with the laying-on-the-cool-kitchen-floor effect that most dogs love.
Why Use a Cooling Bed?
I know what you're thinking: Why do I need a cooling bed if my dog is content to lay on the tile floor?
I'm so glad you asked; there are actually several reasons cooling beds or mats are a better option and deserve serious consideration. A few of the most notable include:
 A cooling mat will usually lower your dog's body temperature more effectively than the kitchen floor will.
 You can use a cooling mat anywhere, including the park or the beach.
 You can use a cooling mat to manage your dog – just place it in an out-of-the-way location and then have him hop on.
 While cooling mats don't provide the same amount of cushion that proper mattresses do, they are still softer than the kitchen tile.
Keep Your Pet Cool And Comfy On Those Hot Days
Did you know that dogs can suffer from a fatal heatstroke when temperatures soar? Make sure your pet is safe with this cooling mat that provides instant relief from overheating. Just place it on your pet's bed or crate to keep your pet feeling cool and refreshed.It effectively absorbs body heat and also provides relief for older pets suffering from joint pain. Super easy to use, the cooling effect starts as soon as your pet sits on the mat.
Premium Materials — Dog cooling mat with breathable mesh and self-cooling fabric, super comfort, and soft design with high-quality material, your pet will fall in love with the pet cooling pad when they want to be cool.

Comfortable Self Cooling Pad — Pet Cooling Mat is perfect for keeping your pet cool and comfortable on hot days. It requires no electricity to maintain a cool surface, usually three degrees lower than normal fabric.

Breathable & Comfortable — This dog cooling mat is consist of 3 layers: free cool ice silk, high-quality cotton, and breathable mesh. Breathable and comfortable compared to ordinary moisture-proof fabrics.

Portable Machine Washable — The cooling pad is lightweight and portable, easy to carry and store, ideal for traveling or outdoor activities

Perfect Gift — Cool but not cold for your pet, and non-toxic 100% safe for animals Makes a great gift for your pet in this hot summer.
FEATURES:
Cool & Comforting:

 

Simply lay the perfect pet seat where your four-legged friend likes to relax and let the chill pad go to work immediately. It is sheer bliss and offers relief from the heat, muscle, and joint pain, making it an ideal treatment for senior animals or pets with health conditions.
Self-Cooling Mat:

 

No water, electricity, or refrigeration required, it's now preferred over water-filled products as it is relatively low maintenance and environmentally friendly. Cushion cools and soothes your dogs and cats on contact for up to 3 hours, providing a cool spot for your dog year-round.
Non-Toxic & Durable Material:

 

Made of non-toxic material so there should be no worries in that department. The surface materials of the cooling mat have been strengthened, even so, you still need to well look after your pet and avoid biting, you know some dogs are too lively who could "destroy" everything.
Easy to Clean:

 

This mat can be machine washed or hand wash, gentle cycle, and tumble dry. Highly durable construction to ensure no deformation after multiple using and cleaning.
Multiple-Use:

 

This cooling mat can be used on the floor, sofa, in your pet's crate, kennel, bed, or outdoors in the shade to help your pets feel cooler. Features lightweight and portable, folds flat to the storage, Ideal for indoor and outdoor use or on the go.