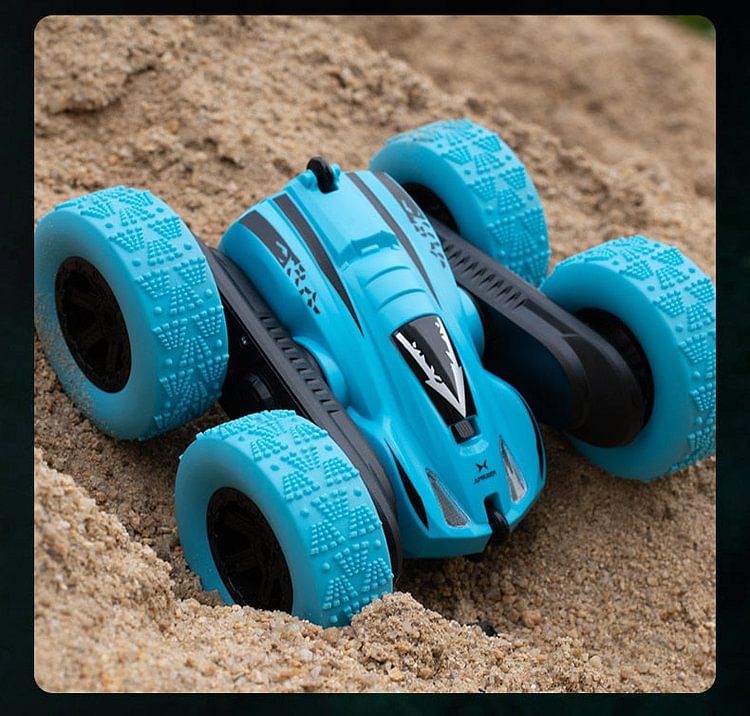 Double-sided RC car is fast and can perform 360-degree flips and spin!
Quickly overcomes all obstacles. Kids will control the Flip car with excitement and thrill. Keeps kids focused and entertained, offer fun as well as the educational way to enjoy the reversible remote control car.
Features:
Full-functional car:

 Forward, back, left turn, right turn. This off-road car has double sides running and can do 360-degree stunt flip rotation spinning.

High speed: high speed flashing racing car, The RC stunt car has dual powerful motors with 4WD, ensure its 7.5MPH high speed. Very flexible wheels, it is easy to make quick turns. Suitable for indoor and outdoor crawling on almost all terrains.
2.4GHz remote control: The stunt car adopts 2.4GHz technology to support many high-speed vehicles, long control distance, good anti-jamming capability, suitable for more cars playing at the same time with Mutual interference prevention.
Off-road Wheels: double side can be driven, will even drive when it's upside down, non-stop even roll over. Equipped with 4 heavy-duty off-road, anti-shock wheels for smooth. Soft race tires, rear bumps make it more durable.
Long-playing time: The RC stunt remote control car toy is equipped with a 4x 1.5V AAA nickel-cadmium battery with a USB cable that charges faster and lasts longer than other standard batteries.
Specifictions:

Material: ABS Engineering Plastics

Rotate: 360 Degree 

Remote Control: 2.4GHz Wireless Remote Control 

Remote Battery: 2x 1.5V AA (Not Included)

Car Battery: 4x 1.5V AAA (Not Included) 

Size of Car Body: 15*14.5*5.5cm 

Package Size: 27.5*18*17.5cm