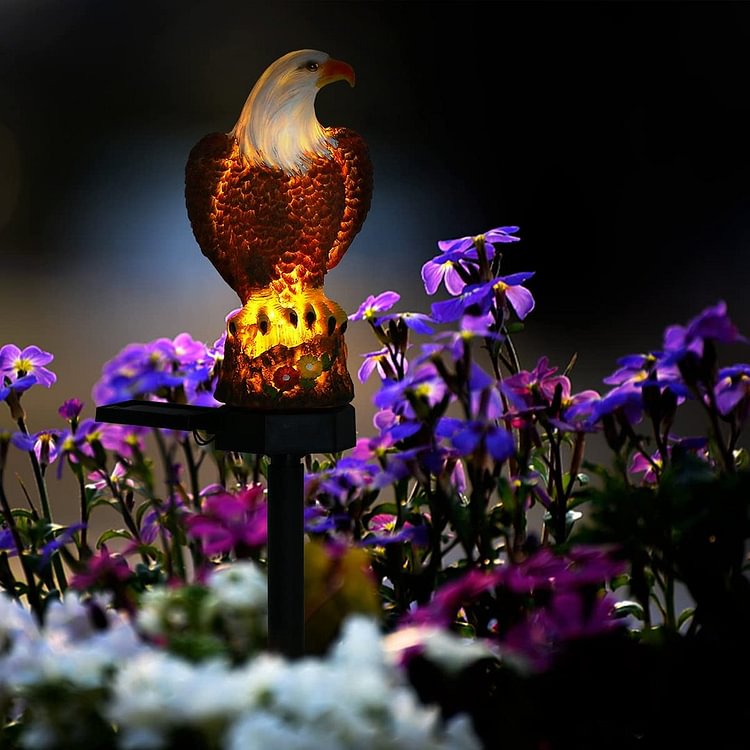 Looking for an eye-catching and durable solar lamp for your garden?
This Eagle Figure Garden Solar Lamp is all that you need. It is constructed of a durable, water-resistant material. The solar panel used can effectively decorate your garden courtyard both during the day and at night. It has the ability to convert energy. There is no need to replace batteries because LED lights are powered by solar energy, which is both energy-efficient and environmentally friendly. Your garden can have a dreamy glow at night thanks to a lovely eagle figure light. Even as a decorative bird repellent, it is usable. Without a doubt, everyone will love it!
Why should you have this Eagle Figure Garden Solar Lamp?
✅ Eye-Catching Lamp: This solar lamp adds decorative brilliance to your garden decor with its distinctive and eye-catching eagle shape and realistic details. It is made with premium materials, and everyone will adore it.
✅ Solar-Powered: It should always be left on to charge in the sun. When it gets dark or at night, it will automatically turn on and provide long-lasting illumination. It has a larger, upgraded solar panel that generates power more quickly in cloudy conditions.
✅ Waterproof & Long Lasting: The solar eagle light is waterproof and long-lasting. It can withstand all weather conditions, including snow and heavy rain, and it will keep working for a long time when it's raining.
✅ Simple to Assemble: Neither external electricity nor wires are necessary. Simply place the sturdy spike into the ground and turn on the switch. By pressing the automatic switch button, the light automatically comes on at night and goes out during the day.
✅ Multi-Purpose: Solar lights are appropriate for outdoor use and provide strong lighting and decoration for your garden, lawn, aisle, porch, yard paths and walkways, or tent, adding color and light to your garden or patio. A fantastic present for friends, family, and coworkers as well.
Specifications:
Material:

Resin

Power Source:

Solar

Security level:

IP44

Voltage:

1.2V

Light source:

Led lamps

Color:

Warm light

Solar Panel:

Polysilicon 2V 80mAh

battery:

AAA Ni-MH battery 1.2V 600mAh

Power:

1.2w

Contact lighting time:

6-12 hours

Life:

10000h

Switch:

Manual + light sensor