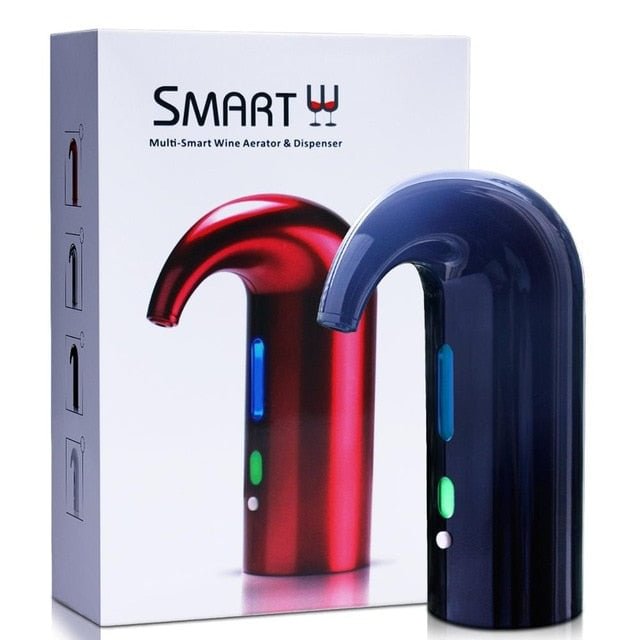 INSTANTLY TRANSFORM YOUR WINE EXPERIENCE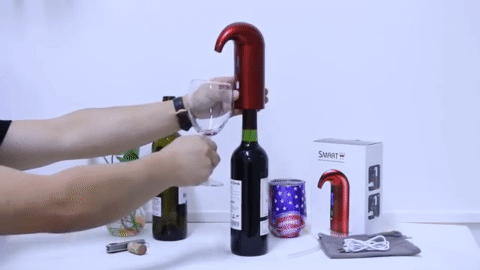 Wine lovers! Get ready to experience a new world of flavor. Our revolutionary Smart Wine Aerator was designed to fully decant and aerate your wine to perfection in seconds.

Instant Drinking, No Need to Wait
This electric wine aerator pourer decants the wine by increasing the high-pressure oxygen, red light, and magnetic. Pouring and aerating the wine will be done at the same time. No need to wait.
No Leaks, No Dripping
No need to worry about wine will stain on your countertop. Our electric wine pourer fits snugly into standard wine bottles and guides the wine into your glass accurately. The flexible long tube will reach the bottom of the bottle, will not waste a drop of wine.
Long Standby Time
Red wine aerator can be fully charged in only 4 hours. After fully charged, it can aerate about 80 bottles of 750ml wine. NOTE: Please charge your wine aerator dispenser every three months when not in regular use, so as to extend the lifespan of the battery.
Better Tasting Wine Instantly With the Push of a Button
Revolutionary one-button technology instantly infuses oxygen into the wine as it's pumped through a special magnetic field to provide 6x more surface area oxidation than traditional funnels. You can actually see the oxidation reaction through the LED window. The red light has a long wavelength, which penetrates the molecules of your wine and accelerates oxidation even further. Simply put, our wine aerator & decanter infuses all of the necessary elements into the wine to have your taste buds light up with flavor.
Aerate Wine Anywhere
A compact design allows the wine aerator to fit practically any sized container from a purse to a picnic basket, while a soft finish ensures comfortable use every time. Stay at home and enjoy wine by the fire, host a barbecue at the park, or stroll down the beach. No matter where you go, the electric aerator will be your wines best friend.
Keep Wine Fresh Longer
The Smart Wine Aerator features an airtight rubber seal, which keeps your wine fresh while you drink and can be a great wine stopper to prevent spilling when you transport it to other places.
Perfect Gift for Wine Lovers & Party Hosts
As the most comprehensive aerating solution, the wine aerator instantaneously transforms traditional classics into show-stopping drinks packed with emboldened flavors. It's the perfect gift for anyone who enjoys drinking some wine, amateur or enthusiast.
INCLUDED:
1x VinO2™ Smart Wine Aerator

2x Hose

1x USB Cable

1x Velvet Bag