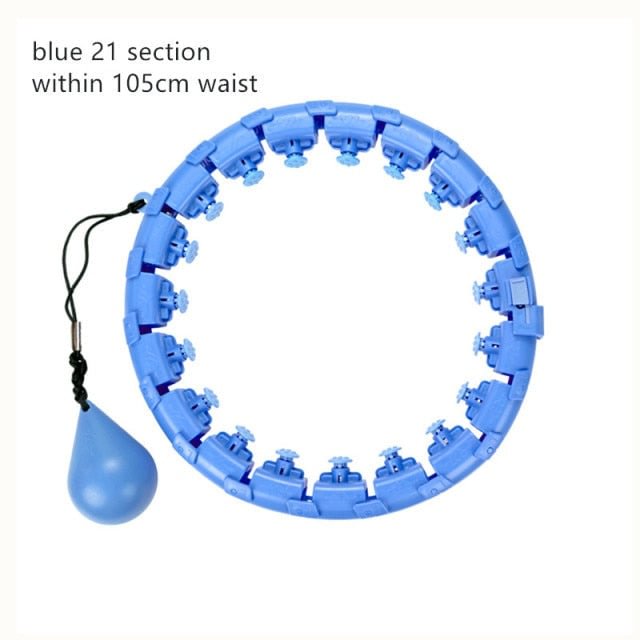 Whoop it up with a Hula Hoop that Whittles your Waist 

Exercise shouldn't feel like a chore. If exercise is a bore, you simply won't do it. Do you remember playing with a hula hoop as a child? Kids love them, but adults sometimes forget that they are not just for kids! 
Our Smart Sports Hula Hoop is a hula hoop on steroids—it's designed with a weighted gravity ball that slides while you exercise so that your waist gets a more effective workout during every use. Best yet—it stays put until you want to take it off.
If you've heisted to get a hula hoop because they are so big and cumbersome and storage is a problem, you will be happy to know that this hula hoop is smaller than usual and can be broken down into individual pieces for easy storage.
Whether you are a beginner or an experienced hula hoop user, there's no excuse to skip a daily workout now. The hula hoop is so much fun to use you will have a hard time setting it down. Buy more than one! Your children are not going to want to just sit by and watch you have all the fun!
Features:
28 Adjustable Sections - Add or remove sections to best fit your waist; Fit 23" to 58" waists

 

Gravity Ball - Weighs approximately 0.9lbs and contains sand; Fill as needed to increase the weight and the intensity of your workout
360° Shock-Absorbing Massage - Provides full contact with waist muscles while you exercise
Auto Spinning and Smooth Rotation - 3 sets of flexible axles per section which rotate at a constant speed
Maximum Hoop Size: 148cm / 58"