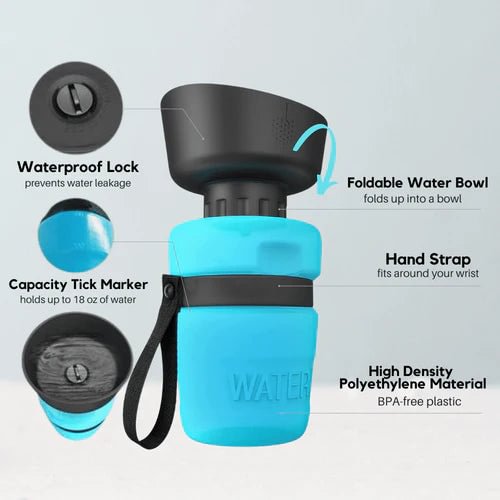 Hydrate Your Pup without the Hassle!
These outdoor dog water bottles are a safe and simple way to give your dog water on the go. Just flip up the cap and squeeze the bottle to supply your furry friend with fresh drinking water!
This pet water bottle will be your next go-to bottle and is a must for all pet parents. This bottle is equipped to give you a mess-free and hassle-free experience when out and about with your dog. It is the perfect size to travel with and holds a sufficient amount of water for almost all outdoor activities with dog. Make your life easier and purchase the water bottle before it sells out!
Features
Lightweight:

 

The dog squeezes water bottles only 0.3 lb/140 g, 3.5"x5.5", supports 18 oz /520 ml volume of safe, fresh, and healthy water for your dog while traveling, trekking, and any outdoor actions.


2 in 1 Design:

 

The foldable dog water bottle and bowl are designed as one. You don't need to prepare an extra water bowl to feed your buddy. The fold cap acts as a water bowl.


Safe & ECO-Friendly:

 

The foldable travel dog water bottle is made of HDPE. BPA Free, safe material, and zero smell. The parts are detachable and easy to clean.


Leak-Proof:

 

The sealed silicone gasket makes sure 100% leak-proof. You can put this dog's portable water bottle and not worry about a leak in your bag. Make sure your pup is hydrated well when outdoor.
Easy To Travel: This Water Bottle is portable and compact, ensuring a hassle free experience. It takes up little to not room and will fits in a standard car cup holder. The bottle also contains an adjustable strap and hook which will secure the bottle around your wrist or bag.  

Easy To Use: This bottle was designed using a valve to reduce water waste and allow you to recycle unused water. Simply squeeze the bottle to release water into the bowl then reduce pressure to allow the water to return back into the bottle. This will leave you mess and leak free.
Safe Material

Food-grade safety material: High-Density Polyethylene.
Safe and non-toxic, hence it can safely be used for pets.
BPA Free, no smell, soft material, and recyclable.
The various parts are detachable and easy to clean.
Capacity Tick Mark. (It is convenient for you to provide your pet with the appropriate amount of water according to his/her drinking needs.)
Product Details

Material: PP plastic
Capacity: 520ml/600ml
Size:

Height: 21.5cm

bottom diameter 6.5cm

mouth diameter 10.7cm
Package Details