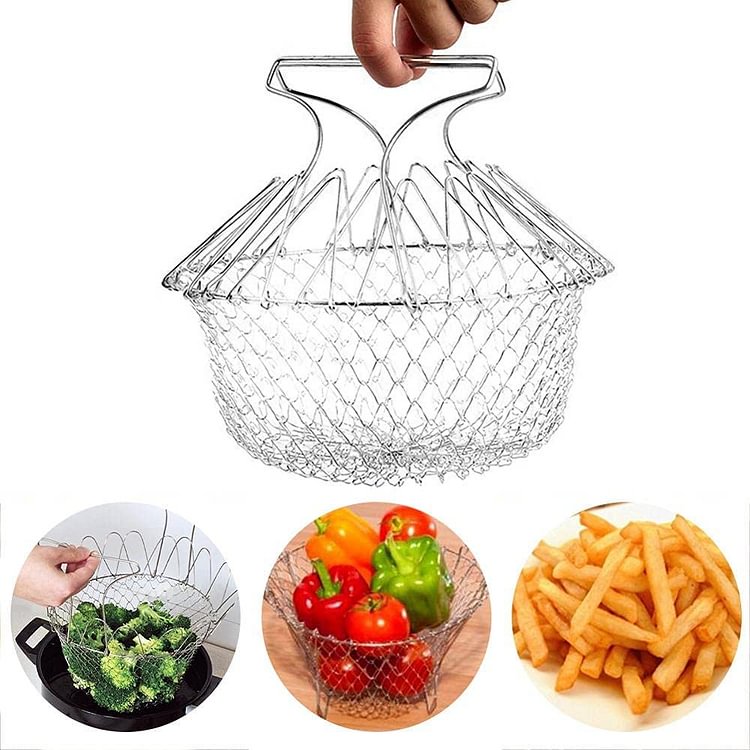 Save time straining, blanching, deep frying with this essential kitchen utensil!
This Foldable Cooking Basket is perfect for anyone who loves to cook! Its sleek design has more features than meets the eye. Cook, boil, steam or deep fry foods with ease.
With endless options of what you can do with this Foldable Cooking Basket, you can be sure it will handle anything you're planning on cooking in the kitchen! Stainless Steel Foldable Cooking Basket Handles stay cool to the touch Cook, Boil, Steam or Deep Fry Foods! Great for the ultimate chef.
Features:

Foldable Cooking Basket


A clever gadget that transforms itself for dozens of everyday use. Use it to boil, steam, deep fry, blanch, steam, rinse, and drain. The best part is, it folds flat for easy storage.




High Quality


Strong and durable stainless steel construction.Use of micro-point resistance welding and seamless welding technology, product highlights-free solder, no welding injury, no edges, no shedding, safe to use.




Super Versatile
This folding cooking basket opens up into a hanging-style basket that fits perfectly into your pots and pans. Boil pasta, rinse vegetables, or deep fry french fries. Simply lift up to drain. Invert the basket to use as a steamer or flip the handles downward to use as a free standing colander. Cooking has never been easier.


Easy Clean


Simply clean with water and dish detergent. Dishwasher Safe.



Specifications:

Material: Stainless Steel
Size: 23*14*12cm
Package Includes:

Extendable Stainless Steel Fry Basket x 1