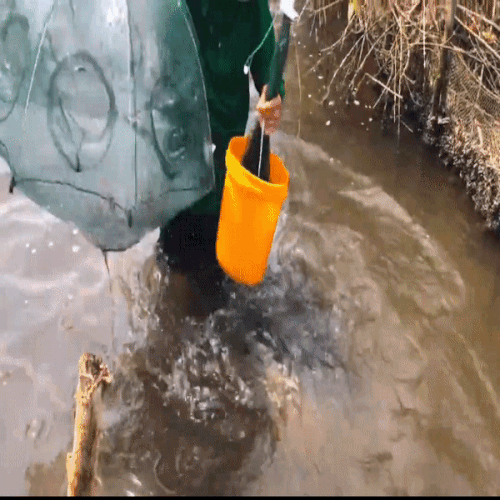 Catch Everything In No Time
Any types of fishes like Minnows, Cat Fishes, Carps, Perch and also crustaceans like Shrimps, CrayFishes, Crabs and even Lobsters. No efforts required, maximum efficiency guaranteed. With this incredible Foldable Fishing Net Trap, you'll be catching everything in no time! The mesh is constructed of high-precision nylon, which is strong and won't break easily when fishing!
The fishing trap's strong steel wire assures that the shape will not be distorted even after repeated usage! Smelt, crayfish, minnows, lobsters, crabs, crawfish, shrimp, and more may all be caught with this net! With this sturdy Foldable Fishing Net Trap, you can capture 5 pounds of various seafood in just 30 minutes! The 360-degree multi-faceted porous design easily captures a variety of prey such as crustaceans and fish!
Fishing on Auto Pilot:
You just set it up, forget about it then come back to pounds of fishes waiting to be collected.
Foldable, making it easy to store and carry anywhere you go fishing. Maximise your fishing sessions results with our magic fishing trap.
Benefits:
EASY TO USE

-
 Our automatic telescopic fishing trap is convenient, simple to use and easy to deploy. No installation needed. Just pull the string on the top and the net will automatically open.
HIGH QUALITY

-
 The fishing net has a 360
° 
design and the mesh is made of a high precision braided nylon. This makes our trap very resilient to damages and let's you catch more fishes!
FOLDABLE

-
 Made out of elastic material, it can be folded into an easy to carry package (much like an umbrella!). Simply press the top button to fold the trap. It makes it lightweight and portable.
DURABLE

-
 Quality and durable steel wire support, use it for years without breaking it!
COMPATIBILITY - Our net trap is suitable 

Specifications:
Color: Green
Sizes Available: 4 / 6 / 8 / 10 / 12 / 16 / 20 Holes
Package weight: 0.276 to 0.900 kg depending on size
Materials: Mesh, Nylon and Steel
Mesh size is 0.3 cm x 0.3 cm, each side is 70 cm long