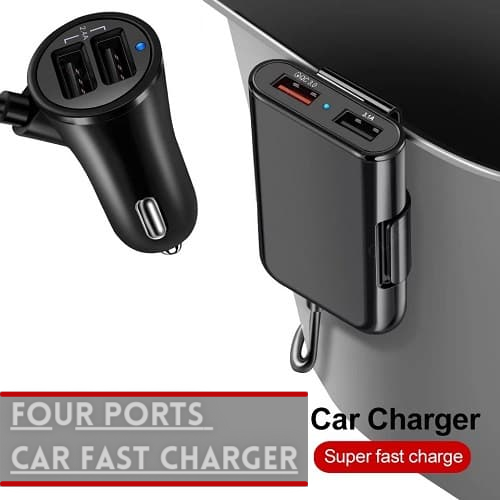 Looking for a multifunctional car charger that can charge multiple electronic devices at the same time?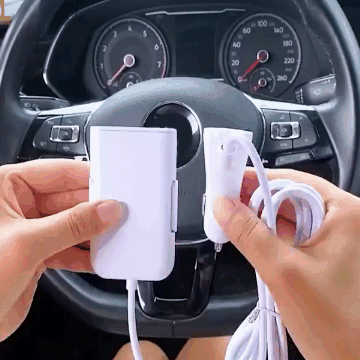 This 4 Ports Car Fast Charger is the ideal all-in-one charging solution if you're traveling with a variety of devices or a large group, want a quick and comfortable charging experience, or want to ensure the kids can charge their iPads in the back seat. Thanks to multiple charging ports and a long charging cable, anyone in the car can charge their electronic devices easily and steadily at the same time. Maintain a full charge while driving to work, on a long trip, or on vacation. A mobile charging station for a car is the perfect USB car charger for your next road trip!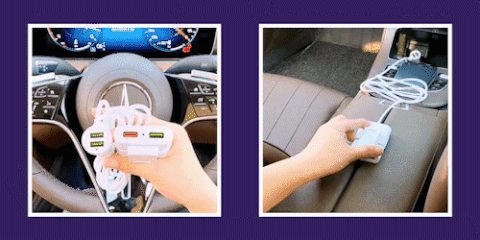 Why should you have this 4 Ports Car Fast Charger?
✅ Multiple Port Charger: This charger has four USB ports, two on the front and two on the back. With this car charger, you can charge four devices at full speed at the same time. Thanks to the best car mobile charger and a long charging cable, anyone in the car can charge their electronic devices easily.
✅ Fast Charging: Universal car charger for mobile phones has a quick charge system. It charges four times faster than standard charging. Charge the phone device from 0% to 50% in a matter of minutes. The car mobile charger kit charges multiple devices in a very short period of time.
✅ Compatibility: Car USB mobile charger is widely compatible and can be used in your car, truck to charge all USB-powered devices such as Android/iOS smartphones and tablets, PSP, eBook, GPS, cameras, and so on. Phone charger for the car is designed to work with 12v-24v vehicle outlets and cigarette lighters.
✅ Complete Protection: This best car mobile charger car not only charges your devices quickly, but also protects them from over-voltage, over-current, over-temperature, short circuit, and other hazards. The car phone charger completely protects your devices while charging.
Specifications:
Material:

PC Fireproof

Size:

7.9cm X 5.0cm X 1.6cm

Output Current:

8000 (mA)

Operating Temperature:

50 ( ℃ )

Cable Length:

1.7M/5.6ft

Color:

Black