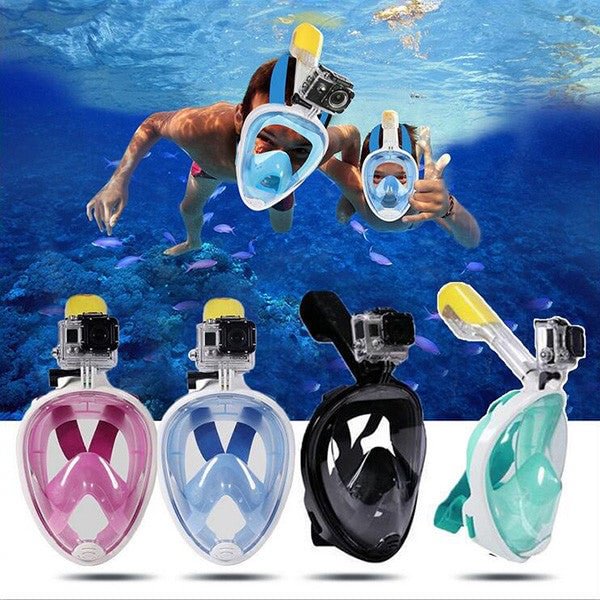 Highlights:
Equipped with camera mount, easily attached to GoPro camera
Easy Breathe:

 

It makes breathe underwater via nose and mouth as easy and natural as you do on land
Top Dry System:

 

Prevents water entry when submerged. Soft safe silicone seal around face, leakage can be drained off by the drain valve via lift head
Anti-fogging:

 

Double air-flow channels structure for anti-fogging, prevent breathe fog from messing up vision field
Wide 180-degree View:

 

Wide and clear window with 180 degrees of vision field to make you have a great clear panoramic view. Easily and clearly see what's around you in water
Elastic Fabric Strap:

 

It has adjustable and comfortable elastic fabric strap, easily pull on face, won't pull hair
Ideal for diving, swimming, snorkeling and other underwater activities
Note: Generally, S/M is for women and teenagers, L/XL is for men with long face.
How to choose the right size:
Step 1. With your mouth closed, measure the distance between the bridge of your nose and the bottom of your chin:
Step 2. If the distance is less than 12 cm or 4.7 inches, Choose S/M.
Step 3. If the distance is more than 12 cm or 4.7 inches, Choose L/XL.
How to use and remove mask:
Put snorkel mask on and place the head in water for ensuring no water entering the mask.
Breathe naturally when the dry top is above water.
Remove the mask by placing your finger into the gap between the mask and your jaw, then push the mask upwards over your face.