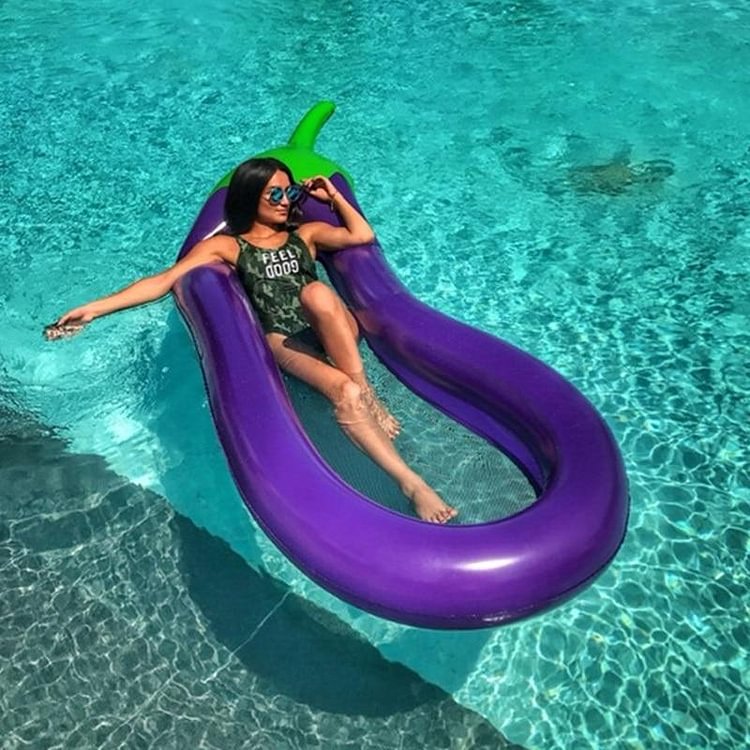 A fun, novelty inflatable pool float that is sure to brighten up your pool. This giant purple eggplant lounger floats in all pools and makes a great novelty gift for pool parties. The material it is made from makes it sturdy and resistant to puncture. A PVC cover protects you from sharp edges and keeps the air in. Accessorize your pool with this Eggplant Float. Its hilarious shape will have your guests LOLing. And you'll be able to sit back, relax, and get your float on.

Perfect for the swimming pool or beach
Size: 106" x 43.3"
Comfortable and roomy
UNIQUE DESIGN : This water hammock's ergonomic design provides plenty of support and an abundance of comfort. It's easy to inflate head and foot rests also deflate easily for quick and compact storage
DURABLE MATERIAL: Made with premium environmentally friendly 70% PVC, 30% high-strength Polyester Yarn. This floating water hammock is covered with nylon fabric to make sure it lasts for seasons to come and outperforms your standard vinyl pool float. Durable and long-lasting.
KEEP YOUR BODY COOL: Inflatable Rafts allows middle of your body to stay cool by soaking in the water while keeping your head and knee a float. You can float on water, luxuriate in sunshine, feel the cool world, enjoy and relax in this wonderful moment
EASY TO STORE & CARRY: Water Hammock Lounger is foldable and compact, you can inflate and deflate the water hammock quickly and easily, Just roll it up for easy storage or tote around when needed. You can take it to a journey.
ENJOY YOUR TIME ON THE WATER: Perfect for pool parties and beach fun. Best birthday present, summer gift. Recommended for adults, children under the guardianship of adults use.