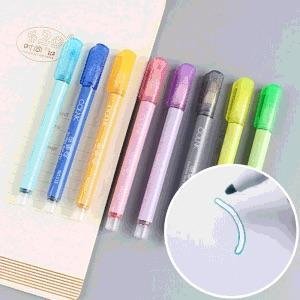 Add A Unique Glittery Finish To Any Art You Make.
Create unique designs with a beautiful glittery and metallic finish. This special pen can be used to write or draw on paper, acrylic, glass, and most surfaces.


Comes in different color options for non-stop art-making fun. It can be used to make greeting cards, short letters, cute drawings, and other magical DIY projects. Would make a great gift for any occasion!


Features:
Compact and easy to use.
Ergonomically-shaped for comfortable use.
Safe and non-toxic, great for users of all ages.
Beautiful metallic finish with fine colored outlines.
Wide range of applications: cards, projects, decorations, and more.
Perfect for DIY projects.
Gel, long-lasting, and quick-drying ink.
Stay home and enjoy a perfect bonding time with kids while you create beautiful artworks.
Make unique and shiny pieces of art that last!



Specifications:
Materials: PVC, PP
Pen Size: 13.2 cm
8 pieces