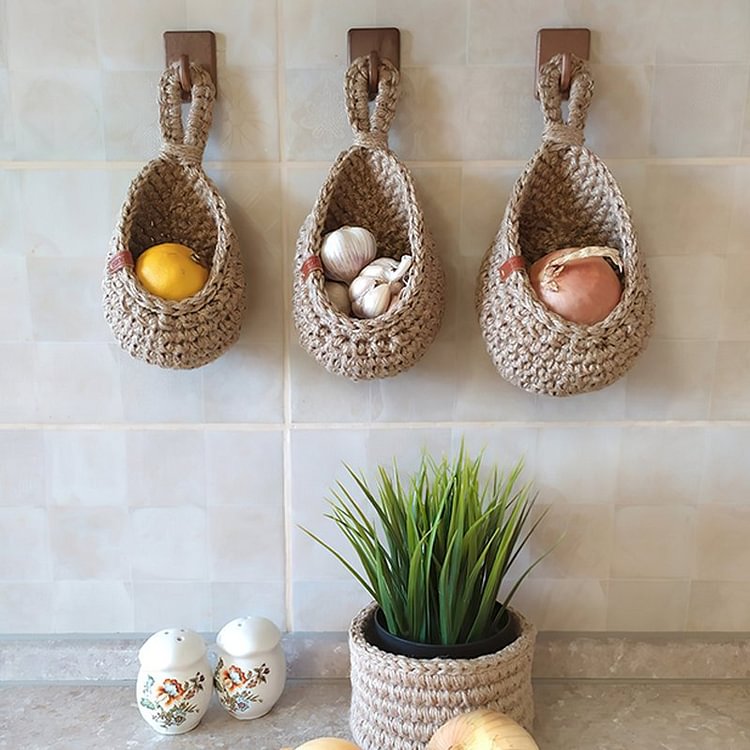 Our Woven Fruit Basket is made of high-quality braided fabric material. Hand Woven from high-quality materials, this hanging basket holds vegetables and fruit and the basket is well ventilated for long time storage. Featuring a special teardrop shape, this hanging basket is highly decorative and can match most decorative styles, adding a touch of natural charm to your home and very eye-catching.
This Wall Basket is perfect for onions, garlic, potatoes, or fruit. The wall basket decor is suitable for wall decor or wall flower plant baskets, easy to hang on the wall, door, or closet with boho, country, cottage, and farmhouse styles. A gift for any occasion, such as Mother's Day, Warm House, Wedding or Holidays and more.
Product Details:
Materials - This hanging storage farm house basket product is 100% Handmade and we used eco-friendly materials like jute twine and jute rope (made from natural and organic fibers). It's considered as Green Activity because it's made by hand.
Unique Design - This hanging wall vegetable fruit baskets is a safe product with a variety of applications。It would help you to make a better use of your 3D space. It is easy to hang on walls, doors and closets. Bring features that fit the Bohemian, country, cottage and farmhouse styles.
Handmade Hanging Bag- The hanging baskets for wall storage are handmade by jute cord in Vietnam.It can be used to store vegetables and fruits, as the baskets are well permeable to air. You can also store your tools in the workshop so that you can easily get the tools.
Wide applications - This Hanging Storage Bag can can be used in your kitchen (vegetables, kitchen utensils); Garden; Indoor – Outdoor; Living room; Entryway; and so on..
Specification

s:
A basket:
Height 5.5 (14 cm), with loop 8.5" (21.5 cm)
Width 4" (10 cm)
B basket:
Height 6.5 (16 cm), with loop 9" (23 cm)
Width 4.5 (11.5 cm)
C basket:
Height 7 (18 cm), with loop 9.5" (24 cm)
Width 5 (13 cm)
D basket:
Height 8.5 (21-22 cm), with loop 11 (27-28 cm)
Width 6 (15 cm)
Package Includes:
1* Hanging Wall Vegetable Fruit Basket