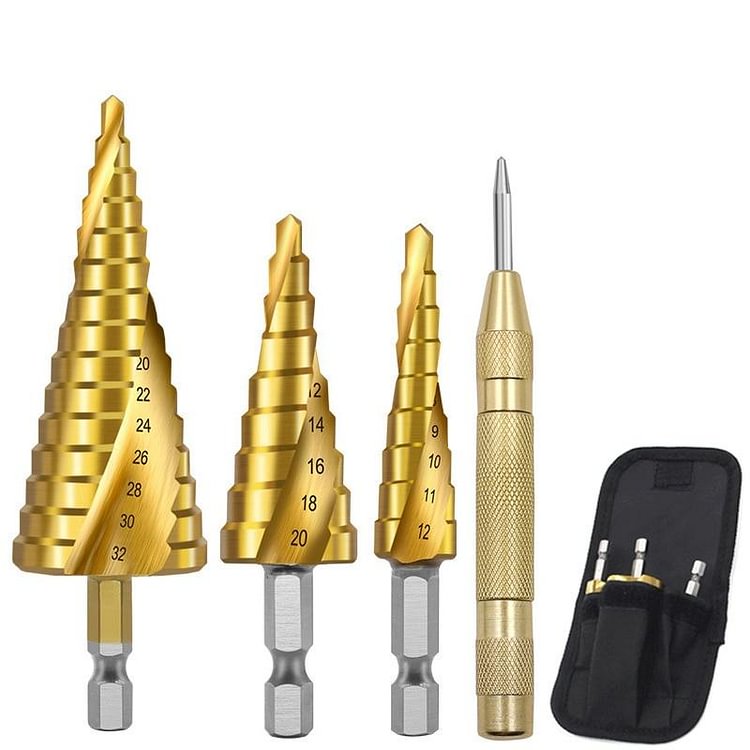 This is the New HSS Steel Large Step Cone Drill Titanium Bit Set Hole Cutter, which is made from high quality HSS steel, and with the Titanium coated to reduce friction and heat.
It is very suitable for using to cut holes in a variety of materials including steel, brass, wood, plastic, etc.
Features:
TITANIUM COATING: High speed steel along with titanium coating ensures outstanding durability and sharpness, can reduces the friction, runs cooler.
DESIGN: The split point tip increases the wear resistance. The two flutes design provides a smoother cutting, allows the material particles escape easily for a much cleaner drilling operation.
EASY ORGANIZING: A drill bits holder bag is included in the metal kit for easy storage and organizing without fear of it falling out.
WIDELY APPLICATION: The step drill bits can be used to chamfer, bur, and drill or enlarge holes. The step drill bits can work with stainless steel sheet, aluminum alloy, plastic material and wood.
PACKAGE INCLUDED: 3-Piece HSS Groove Step Drill Bit (4-12/ 4-20/ 4-32mm ). Supplied with a portable fabric bag.
Single Step Drill Size:
➤ 4-12mm
(4mm, 6mm, 8mm, 10mm, 12mm)
➤ 4-20mm
(4mm, 6mm, 8mm, 10mm, 12mm, 14mm, 16mm, 18mm, 20mm)
➤ 4-32mm
(4mm, 6mm, 8mm, 10mm, 12mm, 14mm, 16mm, 18mm, 20mm, 22mm, 24mm, 26mm, 28mm, 30mm, 32mm)