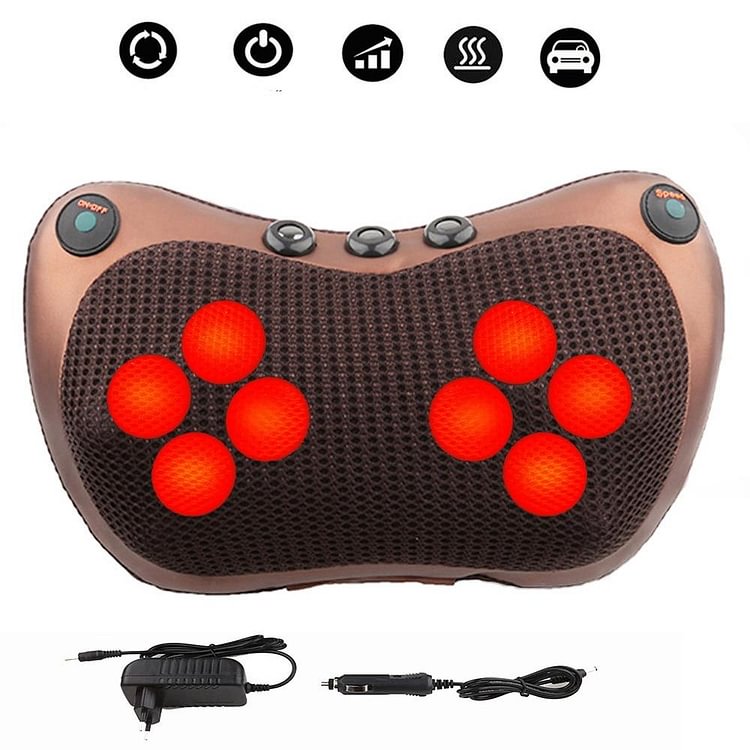 A Convenient Way to Relieve Stress & Pain! Fight Headaches, Migraines, Neck Pain! 💆‍♀️
The 8 Head Magic Pillow Massager  is an easy, perfect way to relax, release tension in your muscles, and reduce pain. You can use it anytime, anywhere, and receive a spa-like massage. At home or even in your car (works with any outlet at home and includes a car charger). No need to leave the house.
The electric massager fits perfectly for your neck, cervical, shoulder, upper and lower back, lumbar, abdomen, calf, and thighs.
The Pillow Massager uses rollers with a rotating action, its snugly fitting area will improve blood circulation and re-oxygenate tensed muscles. Simply plug in your Pillow Massager, choose your preferred speed, and you're ready to relax.
Features:
Relieves Sore Muscles. Powerful 3-Dimension Deep-Kneading Shiatsu Massage Nodes relax overused and tight muscles (automatically changes direction every minute); The advanced heating function soothes aching muscles and can be turned on & off.
Versatile. The ergonomic and compact pillow massager fits perfectly behind neck and body contours of lower- & upper-back, abdomen, calf, and thigh areas. Light and easy to take anywhere you want. 
Full-Body Decompression Massage. Get a massage therapist worthy massage without having to leave the comfort and safety of your home.
Safe To Use. When the massager exceeds working temperature, the safety device will automatically stop the motor to ensure user's safety and prevent damage to the unit.
Proven Technique: This is a Shiatsu Pillow Massager. In Japanese tradition, Shiatsu is a technique that involves manual pressure applied to specific points on the body in an attempt to relieve tension and pain. According to the Japanese healing treatment,

Shiatsu

(meaning "finger pressure") massage uses thumbs, fingers, elbows, and knees to concentrate pressure at certain energy pathways in the body called meridians. The massage also known as acupressure reduces muscle tension and fatigue and is thought to improve blood circulation in the body as well as improve function of the lymphatic system.
Using the latest massage technology, this massage pillow's massaging nodes move in an inward and outward motion for a deeper, more authentic massage experience. The versatile design allows you to target your neck, back, or shoulders.
BENEFITS:
This is such a great ergonomic massage pillow by using the simulation technique, total of 4/8 nodes for a deep-kneading shiatsu massage that helps relax muscles and relieve tightness.
Features overheat protection with preprogrammed automatic shutoff after 20 minutes of continuous operation to ensure safety Shiatsu massage pain relief, can relieve pain in aching muscles.
Convenient and easy to use, press the power button easily, then you can enjoy the massage in the comfort of your home car and office chair, Great for neck shoulder, back, arms, abdomen, calf, and thigh areas.
Infrared heating function massage pillow pad cushion - soft, springy massage head with heat option to help blood circulation.
Shiatsu deep kneading massage pillow with heat massage relax sooth and relieve the neck shoulder and back, it is great gift to your parents, lover, friends and yourself.
Package Includes:
1 X Electric Massage Pillow 
1 X Car Cigarette Lighter 
1 X US Plug Adapter 
1 X User Manual 
SPECIFICATIONS:
Size: 30*18*9cm
Package Size: 34*11.5*19cm
Rated voltage: AC220V 50Hz
Rated power: 28W
Use time: 15 minutes
Type: 4/8 pcs Massage Head (built-in)