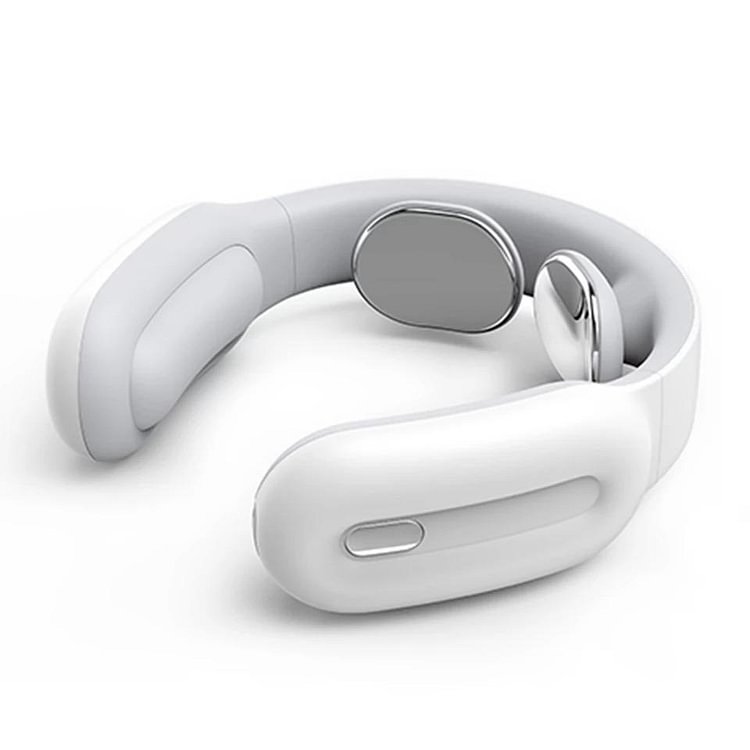 Is this what you look like right now? 
How many hours a day do we spend...

Looking down at our phones?
Sitting down?
Using the computer?
Don't let neck pain dominate your life
According to John Hopkins Medicine, up to 70% of people will experience neck pain that interferes with their daily activities in their lifetimes.
That doesn't need to be you.
15 minutes a day is all you need to improve your neck's health forever.
Life is just too short to be bothered by something as preventable as neck pain.

The Ultimate Solution to Chronic Neck Pain! 
RELIEVE ANY MIGRAINE & NECK PAIN
EFFECTIVELY WITHIN 15 MINUTES
Stimulate away your neck and shoulder discomfort by soothing your pains. Intelligent Massager uses low-frequency electrical pulses also known as TENS (Transcutaneous Electrical Nerve Stimulation) technology to restore your tired and sore neck muscles.
▲ TENS technology relieves pain, relaxes muscles & reduces tension.
▲ Heating at 107.6 F (42 ° C) improves blood circulation.
▲ Remote controlled, choose between 3 modes & 15 intensities.
▲ Lightweight, comfortable & fits perfectly. Use it anytime and anywhere.
▲ Easy to use, discreet & silent.
▲ Replicates the traditional acupuncture and deep-tissue Shiatsu therapy.
▲ Save hundreds of dollars on medical & massage appointment.
▲ Rechargeable. Are away from home and do not have a socked? - just use a power bank to charge it.  
The electric TENS neck massager simulates real human massage to help relieve neck soreness, shoulder tiredness, body tension, improve sleep quality and promote blood circulation. Wetting the neck where the two metal pads come in contact before use will make you feel the massage more intensely.
Comfortable and durable
✪ Made from medical grade silicone, Intelligent Neck Massage gives you the most comfortable feeling while taking away tension and pain.
✪ Intelligent 3D suspension design and 4-point fixed design (2 suspension electrodes and 2 silicone sides), to perfectly fit your neck.  
✪ 304 medical steel features high electrical and thermal conductivity and excellent corrosion resistance. 
✪ Sweat-proof and dust-proof, easy to clean.
VERSATILE AND EFFECTIVE PAIN RELIEF
You can expect to enjoy a deep tissue massage that can open up pain points, improve mobility and reduce discomfort associated with the following:
✮ Neck Pain
✮ Migraine
✮ Arthritis Pain
✮ Headaches at the back of the neck
✮ Cervical Neck Pain
✮ Pinched Nerves
✮ Pain from Poor Posture
✮ Muscle Spasms
✮ Knotted Neck and Shoulders
✮ And More...
Q&A
Question:
My neck is a little thick, I am not sure if it fits?
Answer:
3D floating metal patch design and the flexible silicone base makes the metal patch floating at 360 degrees, which can automatically adjust and fit different sizes.

Question:
Can I carry this on the airplane?
Answer:
Yes, absolutely! Also, it's a perfect way to relax your neck when you're on a plane.

Question:
What is the cause of some tingling feeling in the neck using the massager?
Answer:
The reason for neck tingling is because the user's skin is relatively dry, and the massager is not completely close to the neck. It is suggested prior using, wet the neck so that the massager can stick to the neck closely and increase the intensity of an electromagnetic pulse.

Question:
Can you have it with heat only?
Answer:
Yes, turn the intensity to the lowest after pressing the power button, then press the heating function only.

Question:
Does it vibrate or only give TENS style pulse massage?
Answer:
This massager doesn't vibrate. It uses TENS pulse with heat.

Question:
Do I need a wet towel on all the time during massage?
Answer:
If you have dry skin, we recommend dampening your neck before the massage to improve the experience. You don't need to keep a wet towel all the time. Alternatively, just use water base cream instead of water.