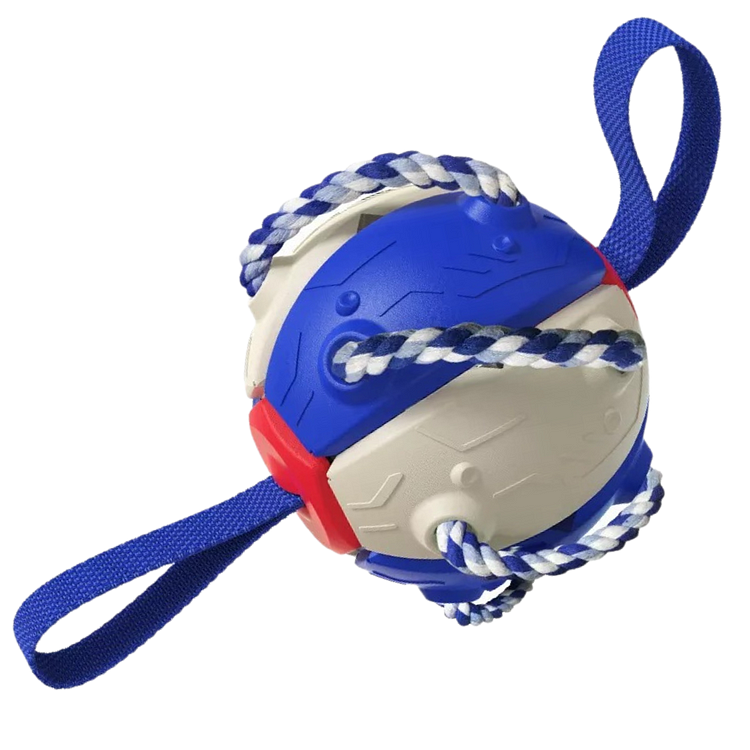 We love our four-legged, furry friends, don't we? The fact that you're visiting this page reveals that you'd like to keep your dog active and entertained. There isn't a better way to do it than playing with your pet, right? This frisbee ball for dogs will be a great way for you both to have a lot of fun and enjoy playtime together. That's the best way to show your dog love and care.
Thanks to its creative design, this pet toy can help you keep your dog entertained in two different ways. First, you can adjust it as a ball and let your dog toss it, roll it or carry it while playing fetch. Does your pet seem to be bored with a ball? Just change the adjustment and turn it into a frisbee toy. Your dog will just love chasing a flat frisbee toy thrown by you. Thanks to the 2 in 1 design of this pet toy, hours of fun in the park or garden are guaranteed!
Our four-legged friends love to bite and chew, especially when they're young. Save your shoes and everyday items from being bitten by your dog. Provide your pet with a toy that is suitable to chew on. The built-in multiple cotton chew ropes will keep your dog busy and happy, preventing him from chewing on other things in your house. The toy will also help you keep your dog's teeth and gums healthy and clean.
Dogs love to be active. They are happiest when they can run, jump and retrieve items. This helps them stay healthy and content. Unfortunately, today's busy lifestyle prevents us from giving our furry friends as much attention as we would like to. This pet toy will help you boost your dog's activity level in a short time. Moreover, you'll dog will stay entertained and will be able to play even with the frisbee ball when you're not home. That will help him stay busy and relieve anxiety. So many benefits - isn't it just great?
It's safety first when it comes to purchasing toys and accessories for our pets. We always take it into account. That's why we offer a non-toxic product for your pet to play with. Made of high-quality material, this frisbee toy for dogs is pet-friendly, even if your furry friend decides to chew on it. But that's not all. The toy is also sturdy and durable. Thanks to its waterproof design, your dog will be able to play with it in the swimming pool or even if it's raining. Isn't that exactly what you're looking for? Choose from five colours available and let the play begin!