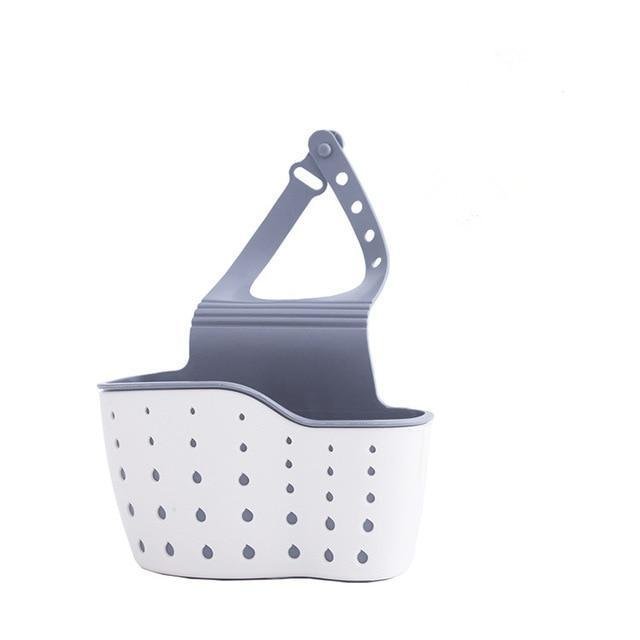 MATERIAL- TPR Rubber; Size- 15x5x21cm/5.9x2x8.2".

Function - Hang in the faucet to storage the sponge, washcloth, razor, cleaning balls, soap and other small objects. At the bottom of the hollow Drain and dry, not easy to breed bacteria

Humanized Design - Adjustable snap-fastener design, you can hang it to the faucet and adjust the length of belt as you like

Save Space - Perfect for a fun and functional way to organize your work space, bathroom, and kitchen
Kitchen sink basket holds sponge, scrubber, scouring pad, drain stopper, and more! Great for kitchen, workplace, bathroom, craft room, classroom, or office sinks
kitchen Sink Small Items
Hang in the faucet to storage the sponge, washcloth, razor, cleaning balls, soap and other small objects. At the bottom of the hollow Drain and dry, not easy to breed bacteria
Dual Layer--Solid and Durable
Double layer detachable design, more solid and durable.
Life Skills
The bottom is designed with drainage holes, and the wet sponge will not accumulate dirty water in the bucket when the basket is installed.
Save Space
Perfect for a fun and functional way to organize your work space, bathroom, and kitchen,A better choice for storing small items in the kitchen and bathroom, such as soap, sponges or dishes.
Drain Holes at the Bottom to Drain Water
Allow sponges, brushes, and other dishwashing tools to drain properly
Good organizer for kitchen sink small items like sponge,duster cloth, scouring pad, keeping them dry and clean
Adjustable snap
Adjustable snap-fastener design, you can hang it to the faucet and adjust the length of belt as you like Key Product Features
Adjustable Strap
The adjutable straps can be used to hook over your faucet easy hanging on kitchen faucet for quick assess to your scrubbers