Make your kids in love with drawing and writing!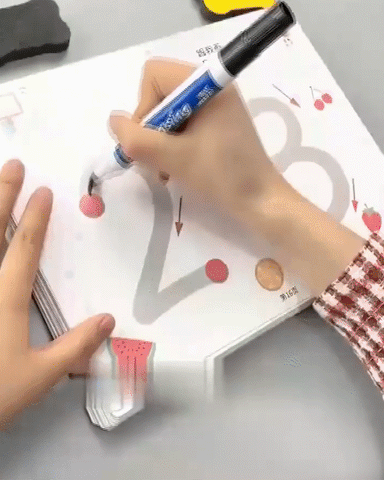 ✅ This complete tutorial book in A4 format for preschool, with color pictures and cognitive games, has varied exercises to promote fine motor skills, concentration, and hand-eye coordination.
✅ This is an English Magic Practice Copybook that emphasizes the skill training of writing, enabling readers to grasp English handwriting skills through training and to write beautiful English words.
Writing - All children want to do what adults do
This millennium-old method of transferring knowledge and experience requires top-notch brain performance. Handwriting is a very complex process that involves fine lines, arcs, and turns. If you master it, it not only improves fluent writing but also
helps with learning to read.
Lines and forms for beginners
Simple and short exercises ensure early success and recognition of directions, shapes, and lines along with the first experiences of hand-eye coordination.
Swings and arches for the advanced
Bows, hooks, and changes of direction improve the child's feeling of holding and guiding the pen correctly.
Features:
Practice Writing, Tracing, Reading, and Drawing Skills: Practice and improve your child's writing, reading, and drawing skills with the Children's Magical Tracing Workbook. The tracing workbook has exercises that include tracing and writing letters, numbers, lines, shapes, and more
Can be Easily Wiped Clean and Reused: The tracing book uses dry erase markers that can be easily wiped clean and each page can be used over and over.
Improves Concentration and Focus: The tracing magical workbook improves concentration and focuses by entertaining children while they practice their handwriting skills. The workbook makes it fun to learn.
Book Contents:
For girls and boys aged 2-12
Writing and trace exercises
Image motif for coloring
Puzzles and cognitive games
Varied drawing exercises
Development of concentration
Improving hand-eye coordination
Preparation for reading and writing
Child-friendly picture illustrations
The package contains: 1 set x Magic trace workbook
Specifications:
Gender

:

Unisex

Material

:

Rubber Magnet
Product Included:1 x Magical Tracing Workbook Set