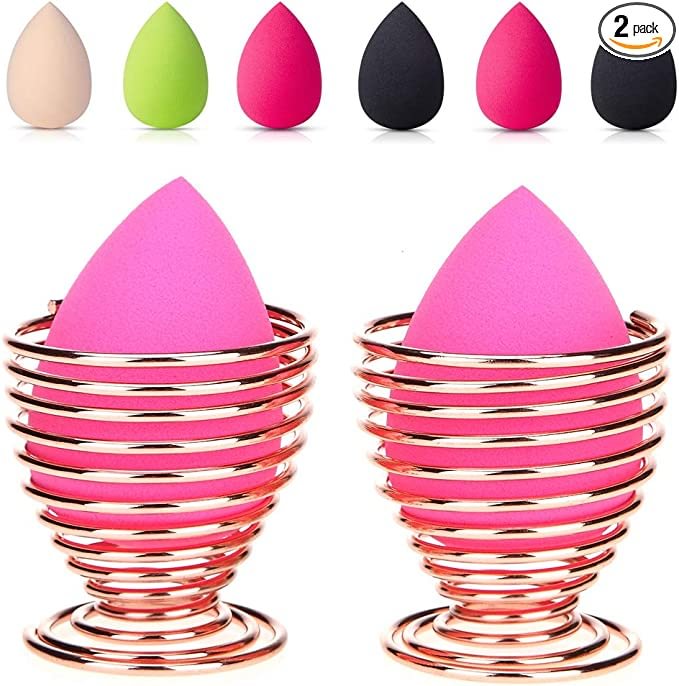 H
ave You still Use That Airtight Plastic Makeup Sponge Stand Everyday?
This Makeup Sponge Stand is durable and pretty to hold your beauty blender in your makeup vanity for convenient reach during application. Lightweight and cute, it fits different sizes of puffs and matte material will be an attractive decoration on your vanity desk. It is the perfect way to store your beauty blender after being washed or applied to keep it fresh, clean, ventilated and hygienic.
About this item
Metal material is durable, beautiful and practical to put them on the dresser for convenient reach during makeup.

Suitable for various makeup sponges, which doesn't take much space.Light weight and portable size is convenient to carry.
Making your beauty sponge stay in right place and helping it dry after cleaning. Spiral appearance is ventilatory, allowing the sponge to dry naturally.

Made out of Stainless steel gold plating finish, hygienic and safe to use, soft but durable and easy to clean. Suitable for Everyday Use, protect your skin.

ATTENTION - Put at a cool,dry,and well-ventilated place. Reduced lifetime may be the result if putting it at a wet place for a long time.(NOT INCLUDE SPONGE)
Package Includes
1*Makeup Sponge Stand