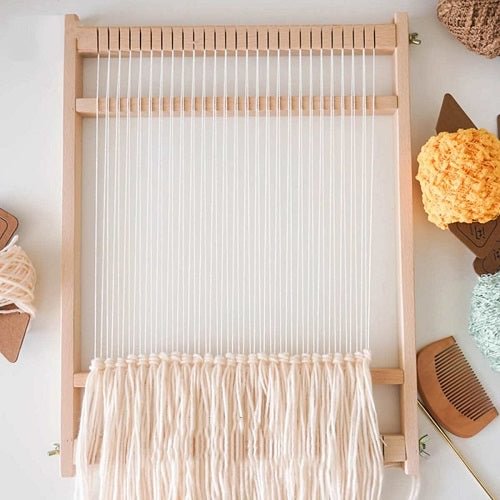 Create beautiful fiber art with this weaving loom starter kit!
The Weaving Loom Starter Kit makes learning to weave simple and fun! Learn to weave and create a beautiful design right from the comfort of your own home. The weaving loom starter kit is great for both beginners and experienced weavers. 
A woven wall hanging kit and tools to make your very own woven fiber art! Get yours today! This weaving kit comes with a video tutorial and beautifully selected yarn of all different colors and sizes to get you started. 
A woven wall hanging is a great way to add a statement piece to your space, adding color and unique texture to your walls! Put a woven wall hanging in your office, entryway, bedroom, nursery or playroom! What's even better is that you made the woven wall hanging yourself and can keep on creating over and over again! Gift a weaving kit to your crafty friends, family or kids!
Features:
Weave Decor, Mats, Wall Art and More: The weaving loom kit allows you to create unique designs. Create decor, wall art, mats, tapestries and more with the starter weaving kit.
High-Quality Wood Loom: The wood loom is made of high-quality pinewood that is durable and long lasting.
Starter Kit is Great for Beginners: The weaving loom kit is great for beginners and experienced weavers alike.
Product Specifications:
Material: High-Quality Pinewood Groove
Package Includes:
1x Looms frame

3x Shuttle

1x Bobbin

1x Wooden comb

1x Installation Instruction