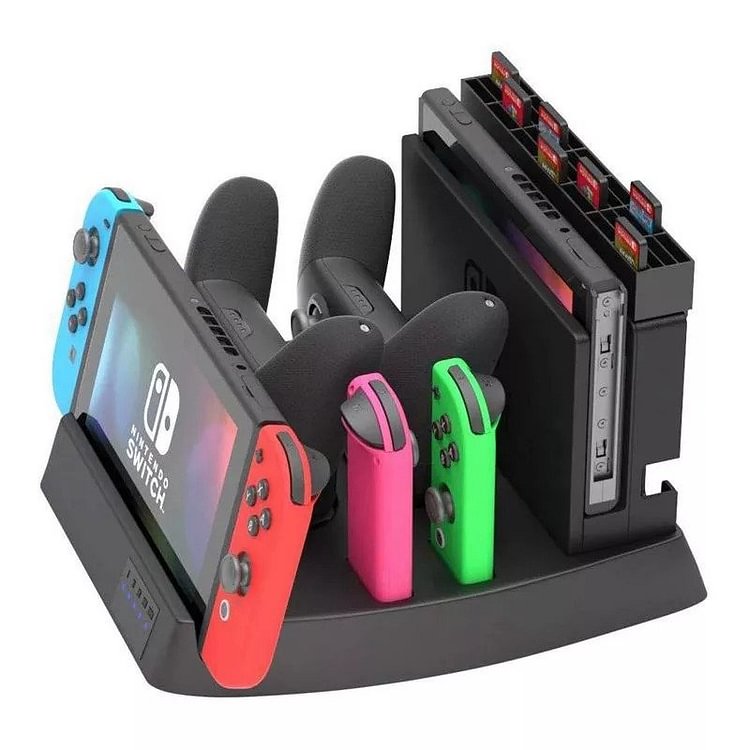 Nicely Display And Charge
Our Charging Display Stand is a convenient stand to displays your Nintendo Switch and accessories, while charging them. 
Takes up minimal space, and fits right in with your setup. Designed to keep your setup clean and organized, all while keeping your Nintendo Switch & Accessories protected and easy to find.
All in One Charging Display Stand for Nintendo Switch
Organize, Charge, and Display your Controllers and up to 28 Games Smart Charging and Charge Indication
The Nintendo Switch Charging Dock is capable of charging the Nintendo Switch, 2 Pro Controllers and 4 Joy-Cons simultaneously. Perfect for keeping the Switch and all the additional accessories fully charged, organized and ready for use.
Great for keeping the console and accessories tidy, organized, charged and ready for use. The dock couldn't be easier to set up, just plug it in and place each accessory into the dedicated slot.
LED indicators show the charging progress of each device and inform you when charging is complete.
Four anti-slip rubber pads ensure the device is stable wherever you choose to place it.
Plug the included USB C cable into the Switch dock for power. Use a second power source simultaneously for even faster charging.
The stand comes with a game holder bracket for the switch dock and can hold up to 28 game cards.
Features:
Charging indication
Separate Switch & Dock Placements
2 Joy-Con chargers
2 Pro-Controller chargers
1 USB Type C to power everything
Slim compact design 
Specifications:
Color: Black
Material: Plastic
Size: 20*40*9cm
Package Contents:
1* Type C Cable