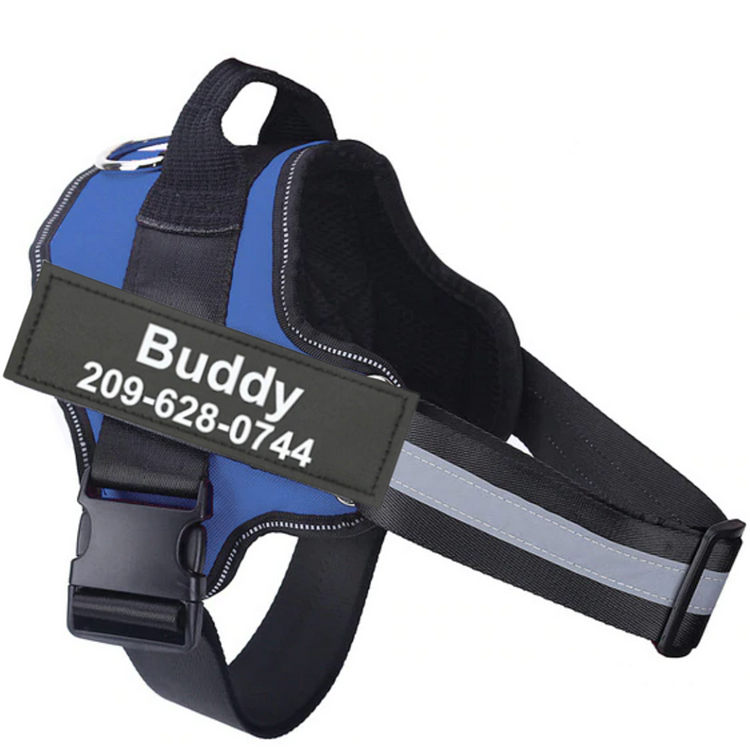 The only dog harness you will ever need!
Our personalized custom dog harness features adjustable straps with a reflective safety strap and breathable padding to make sure your dog is both safe and comfortable. When using a dog harness you are not only protecting your dog from neck trauma or injury, but the customizable harness is great for emergency or recreational purposes.

🐾  Stops Pulling - For better walks for you & your dog.

🐾  Leash Attachment - Sturdy "D" ring for easy leash attachment.

🐾  Top Handle - Extra control and quick grabbing.

🐾  Easy On/ Easy Off - Hassle free and easy to use.

🐾  Heavy Duty - High quality built to last.

🐾  Soft Breathable Material - Comfortable for your dog to wear.

🐾  Safety Reflective - More visibility on night walks for you and your pet.

🐾  Personalized Removable Custom Name Tag - In Case of an Emergency.