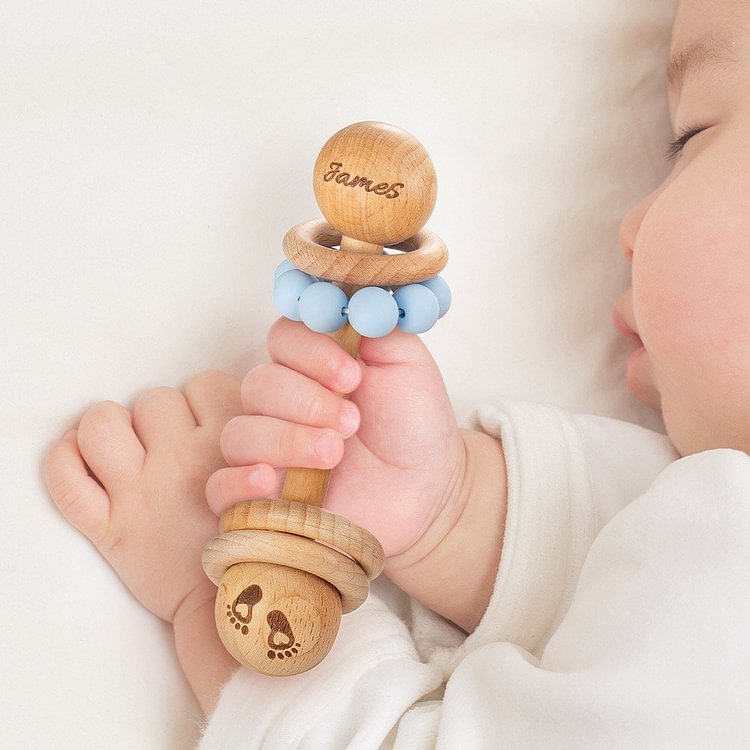 Use it as a photo prop for babies first pictures either inside the newborn crib, or on the car going home!
PLAY AND EDUCATIONAL VALUE
The nature and purpose of this little toy is to encourage exploration, offer different textures, develop curiosity, motor & problem solving skills. The soft, calming sound helps children to connect with the natural world without overstimulating, nurture their hearing, and help them stay sensitive to the natural sounds around them. It is a passive toy designed with the purpose in mind to help children become active learners.

Toy is designed to emit sound when shaken. Babies will enjoy a rattle they can look at and listen to while a parent holds it for them. When shaken, wooden rings click together and make a soft clicking sound that catches baby's attention. The sound made by the wooden rings clicking together. Once your baby is able to hold the rattle the wooden and silicone parts provide both smooth and bumpy surface and textures for sensory exploration and encouraging your little one to discover how to use their hands and developing their grasping skills.

PRODUCT SAFETY
Rattle / grasping toy has been independently and professionally tested by a UKAS accredited test house in the UK to conform with the Toys Safety Directive and certified to meet European Standard EN 71 part 1-3 and carry the UKCA/CE mark.

Item Specifics:
Style:Personalized Baby Rattle
Measurements: Length*Width: 14*3CM(5.5*1INCH)
Material: Beech Wood