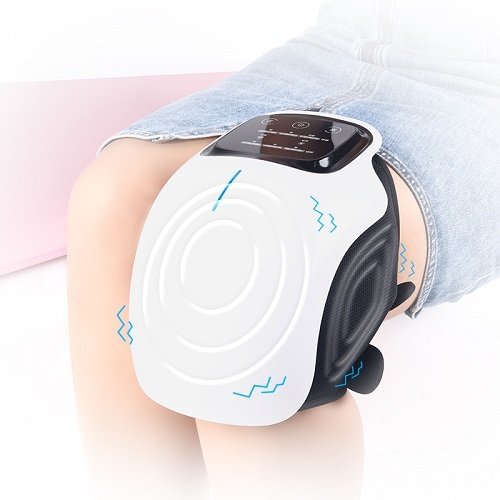 Smart Hot Compress Knee Relaxing Massager Laser Infrared Therapy Elbow Shoulder Vibrating Massager Relieve Joint Pressure Pain
Feature
1. 4 in 1 knee massager.

Vibration, heating, infrared, and laser are combined to provide relief for the knees, draining their effusion and rejuvenating them.
2. Infrared and laser irradiation.

The dual light sources can reach deep layers of the knee to promote blood circulation, relieve stiffness and increase vitality.
3. Uniform Hot Compress

Can generate uniform heat to activate multiple key joint nodes and dispel coldness, thus achieving a comprehensive effect.
4. High-frequency Vibration.

Can simulate human message by performing an all-round massage to the knees. It effectively releases pressure.
5. Convenient to use.

It features an enlarged LED screen, wireless design, 100% knee fitting contour, Type-C port, adjustable velcro, and explicit indicator.
Operation
1. Fasten the product around a knee.
2. Long press the power button to enter auto mode.
3. Short press to turn on/off infrared or laser.
4. Short press the vibration button to adjust intensity.
5. Short press the heating button to adjust the temperature.
Note: The machine will auto-off after 2 minutes of operation.
Specification

Item Type: Smart Knee Relaxation Massager

Color: White

Rated Voltage:3.7V

Input Current:DC 5V=2A

Battery Capacity:3000mAh

Charging Time:3-4Hours

Continuous working time:1-2Hours

Weight:275g
Product Include
1*Main Machine

1*USB Cord

1*Manual

1*Box