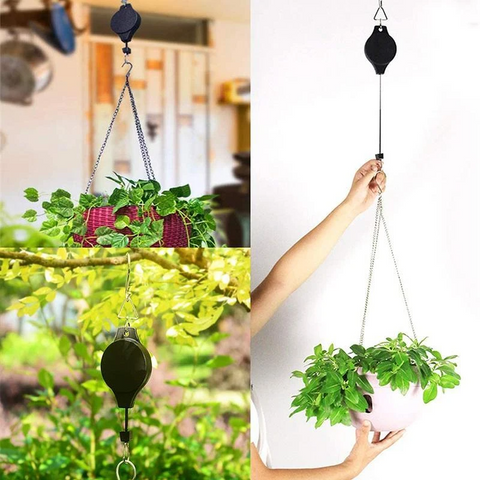 " Love this. It allows me to water a high, out of reach hanging plant with ease. Easy to pull down and put up. My plant is grateful for this hanger because watering is now done easily on a regular basis."      ————— Donald Whitfield   

🌳🌱No more unsafe balancing on step ladders with heavy water cans! This handy pulley makes it easy to lower and raise your hanging baskets for watering, feeding, and plant care. A spring-loaded tape locks the basket in place at the desired height.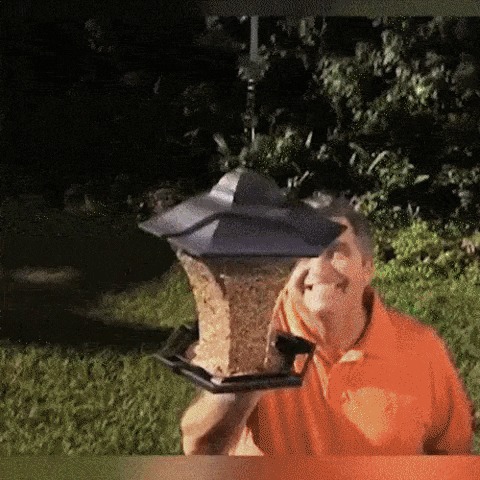 How to block on different heights:
Take out the hook.

Pull down the strap rope perpendicularly to the ground at the desired height, if it has not blocked, do not immediately let go.

Pull out 1-3cm to block it with the slowest speed ( suggest 10mm/s ), please make sure the weight of the goods is not less than 1.2kg or not exceed 10kg.

To higher, hold the plant pot bottle slowly up to the length you like and then release the plant.

To lower, hold the plant pot bottle up a little then let the plant weight helps fall down until the height you want, then you can release the plant.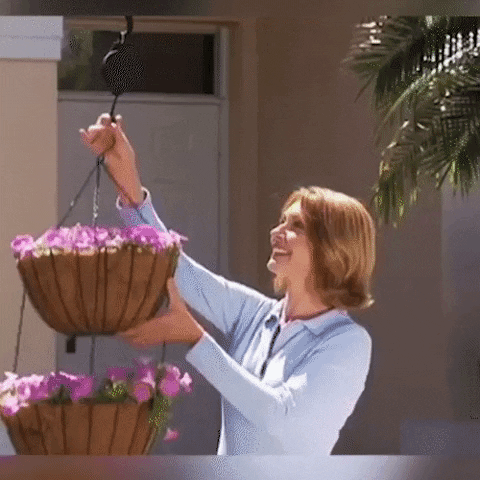 Features:
❤ Hanging plant hook, great for hanging ferns, plant pots, plant light, flower baskets and birdhouse and etc.
❤ Plant hanging holder, provide reliable support & befitting distance from plants with tension mechanism.
❤ Adjustable, up to 15kg(Maximum)weight load capacity, a great way to get more greenery without taking up space and convenient for you to take care of the plants.
❤ Both the clips and line are good quality and makes hanging and adjusting grow light height a breeze. Also, the ratcheting mechanism works smoothly without getting jammed.
❤ Compatible with all parabolic and round reflectors, so long as hooks and eye bolts suit. Maximum Extension Length: 35.4inch.
Specification:
Color:black
Material: PP
weight: 76g
Note: 
Load capacity from 1kg to 10kg, please don't hang less than 1kg goods or don't hang too heavy goods due to plant hanger link up with an internal spring with flexibility.

Package Includes

:
1 x Easy Reach Plant Pulley Set